Blu-ray Review: 'Blue Crush 2'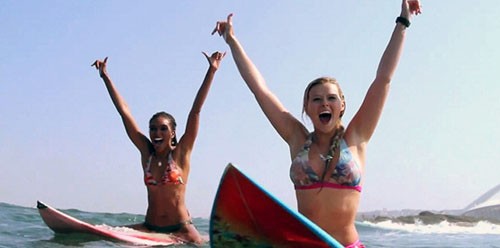 For those who didn't get enough skin and surf the first go round, Universal has got some early summer stuff to tide you over.  Out this week is the babes on boards follow up "Blue Crush 2," this time set on the beaches of South Africa.  So come on in, the waters fine - check out the review and extras peek below.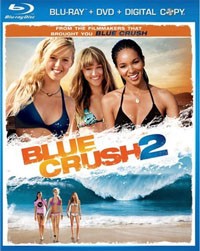 Title: "Blue Crush 2"
   Grade: 0
   Cast: Sasha Jackson, Sharni Vinson, Elizabeth Mathis
   Director: Mike Elliott
   Rating: PG-13
   Runtime: 113 minutes
   Release Company: Universal Studios
   Website: www.Blue-Crush.com  
The Flick: Trying to cash in on the moderate success of the original film, the ever-awful "Blue Crush 2" manages to make its ho-hum predecessor look like the second coming.  Meaning all mildly engaging elements from the first film like the sometimes slick direction by actor-turned-director John "Christine" Stockwell, beauty of lead Kate Bosworth and bravado of Michelle Rodriguez are MIA and replaced with recycled story and direction via helmer Mike Elliott, uncharismatic lead Sasha Jackson and goofy South African gal pal Elizabeth Mathis sporting a horrendously bad accent.  Throw in some atrociously melodramatic B-movie acting via Jackson and her gamey on-screen dad Gideon Emery and some beyond clichéd dialogue (anytime you hear "that's gotta hurt" run for the friggin' movie escaping hills folks!) and you've got a film that should have been taken down by a large swell and drowned in the undertow.     
Best Feature: Hard one, but there's an Alternate Opening that actually adds some decent acting and depth to the piece via some videos of the lead as a child and her deceased mother – should have gone with this instead of that cheesy "Quicksilver" version!
Best Hidden Gem: Want to see how truly bad and over the top the acting (and I use that term lightly!) is in this one?  Check out the Deleted Scene "When CGI Crocs Attack where you get to see the cast react to a croc not yet inserted – even Roger Corman laughs at you!
Worth the Moola: James Woods via "The Hard Way," also from Universal coincidentally, said it best – "Not if you tied my tongue to your tail-pipe and drove me eighty miles-an-hour naked across a field of broken glass. No. No."