Blu-ray Review: 'Blackfish'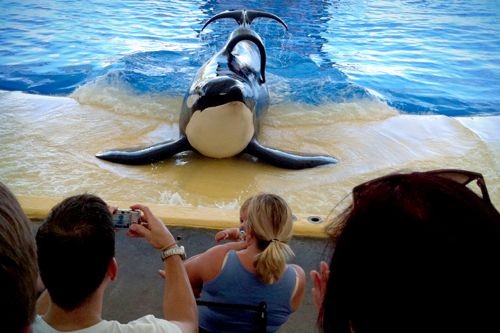 Killer whales treated like circus talent – there's news!  But the extent to which it goes will be revealed as we check out the new to Blu-ray doc "Blackfish" out now from Magnolia Home Entertainment.  The facts will get reviewed below!
   Title: "Blackfish"
   Grade: 4
   Cast: John Hargrove, John Jett, Carol Ray
   Director: Gabriela Cowperthwaite
   Rating: PG-13
   Running Time: 83 Minutes
   Release Company: Magnolia Home Entertainment
   Website: http://www.magpictures.com/blackfish/
The Flick: I've already stressed the importance of seeing "Blackfish" with my previous theatrical review (check it out HERE!), but now that it's on Blu-ray there's simply no excuse to miss it.  A cautionary tale of messing with seas creatures born to live free in the wild is required viewing for anyone with a soul.  In the current trials against Sea World and their continued desire to put unsuspecting trainers in the water with frustrated whales, this Blu-ray should be Exhibit A.
Best Feature: There's certainly some interesting features here including more chat from a former Sea World Trainer and a 'Death By Mosquito' featurette that's a must see, but I was utterly disappointed by the accompanying 'Commentary Track' with Director Gabriela Cowperthwaite.  Not giving much in the way of new insight, reactions to the film or even the battle going on in court, Gabriela simply spews facts we've heard in her intro vid.  A total wasted opportunity – that's what moderators are for folks!
Best Hidden Gem: The "Note" from the director will capsulate everything she has to say during the long full-length commentary – think Cliff Notes!
Worth the Moola: Forget the mundane audio track and watch the flick – the work speaks volumes here.