Blu-ray Review: 'Black Dynamite - Season One'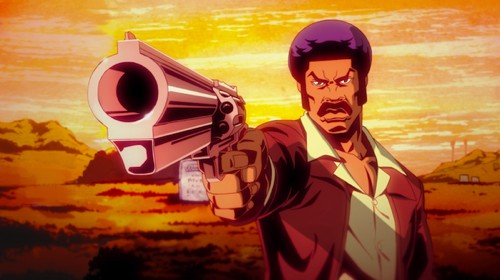 Can the coolest cat in blaxploitation survive being...animated?  We're gonna find out as we check out the new to Blu-ray Adult Swim show "Black Dynamite – Season One" out now from Warner Bros. Home Entertainment.  We see if we get satisfaction by getting our butts in Dynamite traction below!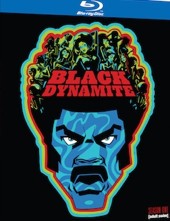 Title: "Black Dynamite – Season One"
   Grade: 3
   Cast: Michael Jai White, Tommy Davidson, Byron Minns
   Director: Various
   Rating: TV-MA
   Runtime: 220 minutes
   Release Company: Warner Bros. Home Entertainment
   Website: www.adultswim.com/shows/black-dynamite/index.html
The Show: Let me start by saying I'm a huge fan of the original "Black Dynamite" film by Scott Sanders.  Taking a comedic look at all things blaxploitation, but without being goofy and still paying homage to the genre, the film is a five star original that has to be seen to be believed.  The animated series is more of a some good, some bad mixed bag filled with characters fans like, but scenarios that scream too spoofy.  Meaning we do get hero Black Dynamite spouting no nonsense one liners and beat downs, Tommy Davidson returning as quirky sidekick Cream Corn (love that freaking name!) and announcer voiced Byron Minns as Bullhorn.  But Dynamite is put into such inane stories with recycled laughs that it's a bittersweet return - guess 'okay' Dynamite is better than none.
Best Episode: For sheer pop culture story amount in a single episode have to go with 'Apocalypse, This! Or For The Pity Of Fools a.k.a. Flashbacks Are Forever' which touches on Bond, "Apocalypse Now" and "The A-Team."
Best Character: Again, so great in the film and equally memorable here Cream Corn voiced by Tommy Davidson is almost cooler then Dynamite himself.  Almost.
Best Extra: The 'Making Of' is a much more succinct and interesting look at the series genesis then the commentary tracks which only show up in spurts, over loud episode sound and were in need of a moderator.
Best Hidden Gem: Eddie Griffin channels Richard Pryor – does it get any better?!
Worth the Moola: For hardcore fans of the film there is going to be some adjustment to the more silly side of our hero, but in the end he is still Black Dynamite.