Blu-ray Review: 'Best Picture - Five Film Collection'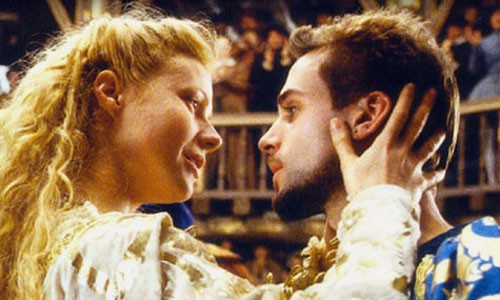 What's more passionate then owning an Academy Award winning flick on Blu-ray?  How about five!  That's the premise of the new Lionsgate/Miramax collaboration Blu-ray out Jan 31 containing five best picture flicks including "No Country for Old Men," "Shakespeare in Love," "Crash," "The English Patient" and "Chicago." Check out the review of the 'Best Picture Academy Award Winners – Five Star Collection' below!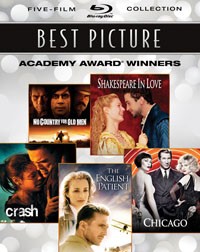 Title: 'Best Picture Academy Award Winners – Five Film Collection'
   Grade: 3
   Cast: Various
   Director: Various
   Rating: R
   Runtime: 634 minutes
   Release Company: Lionsgate/Miramax
   Website: www.lionsgatebluray.com
The Flicks:
"No Country for Old Men" – Besides the recent "True Grit," this was the Coen Brothers most linear and by all accounts most normal film, thus why Academy voters finally gave it up.  The story and style are decent enough, the performances good (though Javier Bardem steals the whole damn movie!) and the writing alright, but the sudden strange Coen-esk ending, which would have normally felt right on one of their wonderfully weird previous outings, seems like a turd in a swimming pool here.  (Aka this ain't my favorite Coen flick – for that see "Barton Fink!")
"Shakespeare in Love" – I actually originally avoided this one like the plague, but having seen it I so admired it.  From the clever writing (a movie about Shakespeare coming up with...Romeo and Juliet!) to the magnetic chemistry between leads Gwyneth Paltrow and Joseph Fiennes (not to mention a scene chewing supporting cast the likes of Geoffrey Rush and the stunning Judi Dench!) everything about the film is joyous.  Okay maybe Ben Affleck is a tad out of place (A Midsummer Night's..."Reindeer Games!"), but real love overcomes all.  
"Crash" – Even though I know LA and all the ugly things that go on inside it, Paul Haggis's film to me still seems provocative for provocative sake.  Meaning he takes all the on the surface LA stereotypes and lays them out front and center for maximum shock value.  The images and situations do shock (the whole emotional rollercoaster between Matt Dillon and Thandie Newton is gut punching), but is this all that we require from a film?  Provocative and unflinching or exploitative and salacious – I vote the latter.
"The English Patient" – Lovingly lush and majestically sweeping visually ala Director Anthony Minghella, the main flaw of "The English Patient" is the non-existent chemistry between Ralph Fiennes' supposed cold character (he's actually the passionate one!) and Kristin Scott Thomas' live life lady (she's about as warm as icicle!) – a real shame. (And Fiennes deserves better!)  More fitting is the chemistry between the lovely Juliette Binoche and everyone she comes into contact with including Fiennes (she's his selfless nurse!), Willem Dafoe (she's a good listener!) and love interest Naveen Andrews. (Binoche can melt any man!)  My advice is never having Binoche and Thomas in a film together playing equally ripe and passionate women - one has soured.   
"Chicago" – As far as musicals go, Chicago does have memorable music (even I admit to toe tapping 'All That Jazz!'), a cool cast (Richard Gere and John C Reilly – who would have thought it!) and some style (Director Rob Marshall did better on this then Pirates On Stranger Tides!), but as for a flick that one might watch over and over again (for multiple Renee Zellweger material I'd go with "Love and a .45!"), the windy city is a one-time visit.
Worth the Moola:
Obviously you get a lot of movie bang for the buck, but you have to at least like three of the five to make it worth the purchase.  I've made my opinions clear – your turn.