Blu-ray Review: 'Beneath'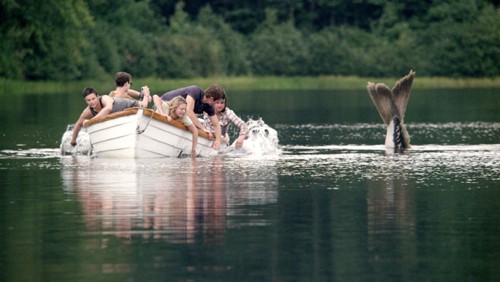 One lake.  One boat.  One killer fish.  Let the feast begin.  We're check out the new to Blu-ray chiller "Beneath" out now from Shout! Factory's horror division Scream Factory.  We go fishing below!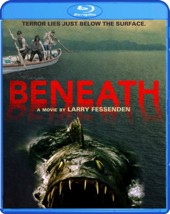 Title: "Beneath"
   Grade: 2 1/2
   Cast: Daniel Zovatto, Bonnie Dennison, Mark Margolis
   Director: Larry Fassenden
   Rating: Not Rated
   Runtime: 90 minutes
   Release Company: Shout! Factory Home Entertainment
   Website: www.shoutfactory.com
The Flick: What plays out like a cross between "Lifeboat" and The Raft segment from "Creepshow 2" is decent enough for a bad creature chiller, but there's just not enough fun here.  Told with a very somber "12 Angry Men"-esk tone via helmer Larry Fassenden, "Beneath" has the horror, the gore and the gamey scares, but forgets to let the audience in on the B-Movie joy.  What's left is a flick with a creepy yet goofy looking fish that nobody seems to be enjoying.  I say they should have embraced that creature for the large eyeball bastard that he is - a big dopey fish is a terrible thing to waste.   
Best Feature: The full length 'Commentary' by the ever-calm Fassenden and Sound Designer Graham Reznick on everything from influences to casting is a decent listen.
Best Hidden Gem: Nice to see "Equalizer" regular Mark Margolis here playing a mean old guy guarding the lake.
Worth the Moola: Again its got slice and dice and human turmoil, but if you're looking for fun you may need a few drinks first.