Blu-ray Review: 'Battlestar Galactica: Blood & Chrome'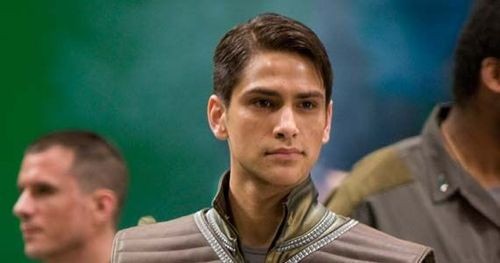 Ready to hit space and do battle with some very bog robots again?  Then follow us down the runway as we check out the new to Blu-ray prequel "Battlestar Galactica: Blood and Chrome" out Feb. 19 from Universal Home Entertainment.  The battle is reviewed below!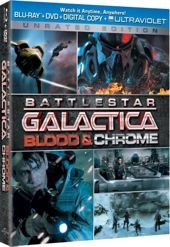 Title: "Battlestar Galactica: Blood & Chrome"
   Grade: 4
   Cast: Luke Pasqualino, Ben Cotton, Lili Bordan
   Director: Jonas Pate
   Rating: R
   Runtime: 94 minutes
   Release Company: Universal Home Entertainment
   Website: www.UniversalHiDef.com
The Flick: I'm actually one of the folks who did NOT like the new version of "Battlestar Galactica."  (When I originally wrote a review via Joblo.com I received a gaggle of hate mail!), but I'll be damned if this new "prequel" to the show titled "Battlestar Galactica: Blood & Chrome" isn't a Cylon turn around for me.  Led by young Luke Pasqualino who is playing a young Edward James Olmos as William Adama, Blood & Chrome has great acting, rich characters, decent dialogue and special effects that slam it all home.  Plenty high tech, but talky enough to make it more a character study, Blood & Chrome makes up for it's predecessor's obvious flaws.  This i a show I would have tuned in for. 
Best Feature: The 'Visual Effects' featurette show how they cleverly created all the cool visuals with a lessor budget – a good performance goes a long way.
Best Hidden Gem: Again, as the young Adama, Luke Pasqualino exudes the intelligence of Olmos mixed with a distinctively cocky edge that come with being young. 
Worth the Moola: A Cylon breath of fresh air, Blood & Chrome captures what made the original series good, plus mixes in a healthy dose of indie film feel – all is forgiven new Battlestar!