Blu-ray Review: 'Battleship'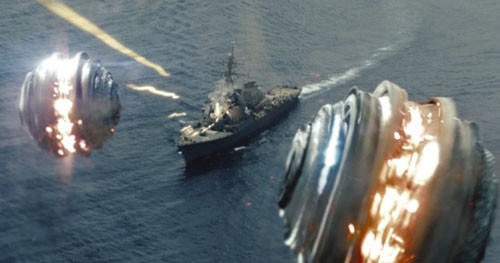 Pegs.  Destroyers.  Sinking.  Hit and miss.  All the conventions of one of the biggest board games of all time turned big budget movie – "Battleship."  We're checking out the Blu-ray out August 28 from Universal Home Entertainment.  Make your review move below!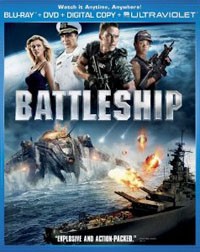 Title: "Battleship"
   Grade: 4
   Cast: Liam Neeson, Taylor Kitsch, Brooklyn Decker
   Director: Peter Berg
   Rating: PG-13
   Runtime: 132 minutes
   Release Company: Universal Home Entertainment
   Website: www.battleshipmovie.com
The Flick: "Battleship" could have been the summer's biggest dud and frankly being based on a board game it should have.  But under the direction of passionate and fun loving actor turned filmmaker Peter "Shocker" Berg, this clever board to big screen adaptation is a serious winner in the joy category.  Filled with tons of frivolous fun, lots of blockbuster action and even the pumping sounds of AC/DC, Berg creates one seriously underrated summer outing that if not for Avengers would have been the flick to beat.  But catching the action now on Blu-ray only shows why "Battleship" is a film that's very much like the the sassy summer fare we grew up with – loud, eventful and with all cheesy pleasure and satisfaction guaranteed.  
Best Feature: In lieu of no Berg commentary track (nor an interview for yours truly!) this Blu-ray is fortunately very Berg heavy with the manic man showing up everywhere from intros to an all access while you watch pop up.  Best of the bunch though is 'Commander Pete' where we learn of the extent of the energy of Berg and his love of all things craft service!
Best Hidden Gem: Always love the Neeson (of the Liam persuasion!), but got to give it to the work of "The Future" co-star Hamish Linklater as a nervous computer nerd.
Worth the Moola: This is one fun time at the movies that is enhanced by the beauty of Blu-ray.  Sink your bucks and aim your collection shelves – this one's a hit.