Blu-ray Review: 'Bates Motel - Season One'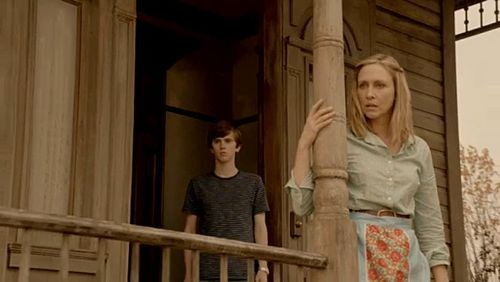 Ready to see what made Norman Bates, well, Norman Bates?  Then follow us as we check out the new to Blu-ray "Bates Motel - Season One" out now from Universal Home Entertainment.  Avoid showers and check out the review below!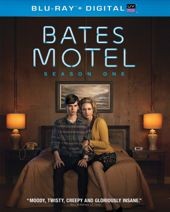 Title: "Bates Motel - Season One"
   Grade: 2
   Cast: Freddie Highmore, Vera Farmiga, Jere Burns
   Director: Various
   Rating: Not Rated
   Runtime: 434 minutes
   Release Company: Universal Home Entertainment
   Website: www.great-tv-shows.com
The Flick: When I think of "Psycho" (and not just Hitchcock's original!) it conjures up two things – the famed house and motel and Anthony Perkins iconic turn as Norman Bates.  The new "Psycho" prequel series "Bates Motel" does have the famed house and motel, but without Perkins we're left with the Norman musings of Freddie Highmore.  I'm all for a new take on the classic mother obsessed killer (though I admit I loved watching Henry Thomas channel Perkin's Norman in Psycho 4!) and while Highmore steers clear of any Perkins mannerisms he unfortunately brings nothing new of interest.  What we're left with is one dull and uninteresting Bates that is instead surrounded by oddballs via a "Twin Peaks" rip-off vibe that seem to facilitate his downhill mental process.  Plus messing with "Psycho" lore (it's set in modern times, Norman Bates has a brother, ect.) doesn't do much to endear the audience to this show.  The only half decent thing here is the work of mom Vera Farmiga and only on an interesting layered level, but she doesn't portray or show any of the harsh side that eventually drives Norman off the deep end.  In need of many repairs, Bates Motel like it's unfortunate MIA past guests is lifeless.  
Best Feature: I loved the 'Panel Discussion' hosted by "The Shield's" Shawn Ryan.  We get to see Vera try way to hard to complicate her character, while Highmore looks like he's winging it – I rest my case.
Best Hidden Gem: The five-star turn by former "Dear John" actor Jere Burns as the creepy and ominous Jake Abernathy – Emmy Award winning stuff!
Worth the Moola: For fans and even non-fans this is a tough show to get through.  When the actual psyche of Norman Bates is only dealt with in the Season Finale you know there's mother trouble in motel paradise.