Blu-ray Review: 'Bait 3D'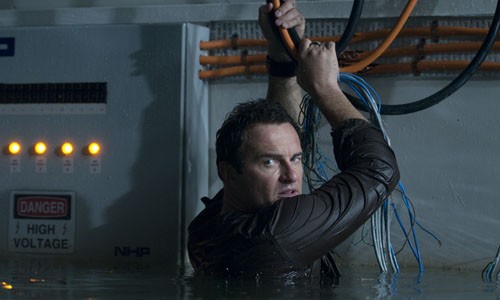 Ready for a little shark blood clean up on aisle five?  Then grab a cart and cage and check out our review of the great white in a grocery store flick "Bait 3D," out on Blu-ray Sept. 18 from Anchor Bay Home Entertainment.  Review and shark below as always!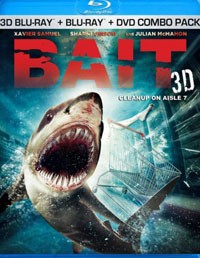 Title: "Bait 3D"
   Grade: 1
   Cast: Xavier Samuel, Sharni Vinson, Julian McMahon
   Director: Kimble Rendall
   Rating: R
   Runtime: 93 minutes
   Release Company: Anchor Bay Home Entertainment
   Website: www.anchorbayent.com
The Flick: I don't mean to sound like I'm anti-accent, but I'd be lying if I didn't mention the seriously heavy twang on most of the actors in "Bait 3D" is a tad on the distracting side.  Plus it doesn't bode well for bad guys, who spew lines about "tar-tear sauce" – fear into the hearts of men this one isn't striking.  Not to mention there are some familiar character conflicts (man goes dark emotionally after he blames himself for best friends death!), bad CGI and 3D shark effects (where's Bruce when you need him?) and an utterly wasted Julian "Nip/Tuck" McMahon.  (How did he ever get convinced to be in this thing – did he lose a bet?!)  There are a couple of interesting kills but hardly worth the ninety-three minute run time - the rancid fromage isn't the only cheese in this grocery store. 
Best Feature: Is a single lame 'Storyboard Gallery' really considered in extra? 
Best Hidden Gem: There's a scene where an ailing boyfriend throws his girlfriend's annoying little dog to the water to buy time to escape – finally an honest moment.
Worth the Moola: I love shark and blood effects as much as the next horror geek, but what you see is what you get on this one.