Blu-ray Review: 'All Superheroes Must Die'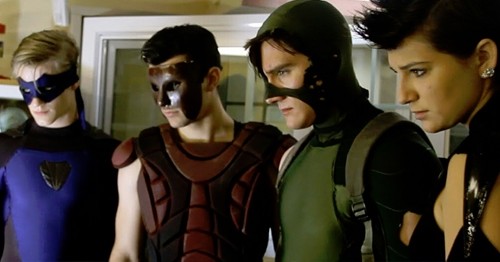 Tired of the good guy always coming out on top?  Then check out the getting even with the heroes outing "All Superheroes Must Die" out now from Image Home Entertainment.  Review of bad vs. good below!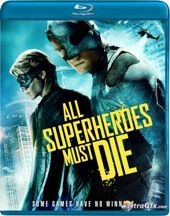 Title: "All Superheroes Must Die"
   Grade: 4 1/2
   Cast: Jason Trost, Lucus Till, James Remar
   Director: Jason Trost
   Rating: Not Rated
   Runtime: 78 minutes
   Release Company: Image Home Entertainment
   Website: www.watchimage.com
The Flick: "All Superheroes Must Die" is a great example of how to engage an audience without the benefit of big bucks.  Director and actor Jason Trost brings the fun zest he displayed in The FP, but this time grounds it in a dramatic reality to provide a superhero flick that flies above the fray simply because it's entertaining.  His band of masked misfits including Lucas "Cutthroat" Till, Lee "The Wall" Valmassy and the fetching Sophie "Shadow" Merkley are only matched by super charismatic baddies Sean "Manpower" Whalen (middle finger glee!) and highly underrated villain James "Rickshaw" Remar – the whole cast cooks.  So with such an original take complete with an 80's Tangerine Dream-like score, why does this one get only four and a half stars?  Simple – the ending.  Ambiguity may have worked for Stanley Kubrick for 2001, but in a superhero flick it's not creative, it's a copout.     
Best Feature: None – what gives?  (Not even any added Remar insight – shameful!)
Best Hidden Gem: Again, I dug presidential hopeful Sean Whalen as the ear to ear psycho Manpower – evil makes you feel good, don't it?!
Worth the Moola: Amidst an ending that sucks it, I highly recommend this one.  Think if Chris Nolan made Dark Knight back in his early "Memento" days.