Blu-ray Review: 'A Single Shot'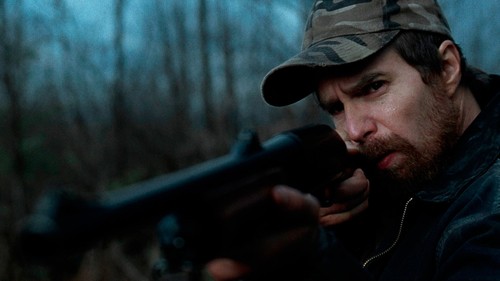 An accident.  A cover-up.  A bag of money.  We're checking out the new to Blu-ray thriller "A Single Shot" out Jan. 14 from Well Go USA Home Entertainment.  We review the cover up options below.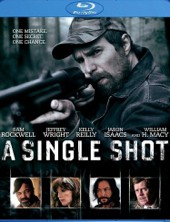 Title: "A Single Shot"
   Grade: 3
   Cast: Sam Rockwell, Jeffrey Wright, William H. Macy
   Director: David M. Rosenthal
   Rating: R
   Runtime: 116 minutes
   Release Company: Well Go USA Home Entertainment
   Website: www.wellgousa.com
The Flick: "A Single Shot" has a lot in common with the 1998 Sam Raimi helmed "A Simple Plan" where an unsuspecting gent in need of loot comes across a bunch of money and it leads to complications.  What does separate the two films is Shot's Sam Rockwell starts the ball rolling by accidently killing the owner while hunting.  I'm a big Rockwell fan, but his one-note performance here is merely okay and frankly the supporting cast outshines him.  Jeffrey Wright as his downtrodden friend, William H. Macy as a slimy lawyer and even the quietly effective Jason Isaacs as local heavy Waylon all add flavor to the thriller fire.  A tad slow, familiar and overly moody, "A Single Shot" like the moral consequences of its lead character, consists of good and bad.
Best Feature: There's a one-stop shop 'Making Of' that adds a little insight on the novel turned flick aspects.
Best Hidden Gem: Love the highly underused Ophelia Lovibond playing Abbie a gal who becomes infatuated with Rockwell's quiet loner.
Worth the Moola: If you haven't seen "A Simple Plan" yet...go out and rent it.  (Then rent this after!)