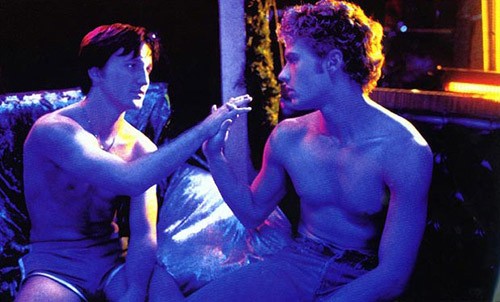 A story of the 70's told in the 90's...interesting.  We check out the new to Blu-ray release of the racy Mark Christopher controversial flick "54" from Lionsgate Home Entertainment.  The review doors open below!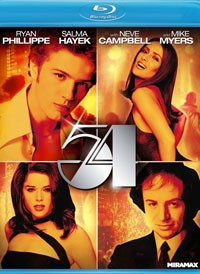 Title: "54"
   Grade: 1
   Cast: Ryan Phillippe, Salma Hayek, Neve Campbell
   Director: Mark Christopher
   Rating: R
   Runtime: 104 minutes
   Release Company: Lionsgate Entertainment
   Website: www.lionsgatebluray.com
The Flick: When I first saw "54" it felt watered down to me.  Full on style but low on substance, it had little to no impression on me and seemed more like a missed opportunity.  Seeing it back on Blu-ray it now feels even flatter, filled with trite and trying material that doesn't provide the experience of Studio 54 for those of us who weren't there.  Instead we get hot guys (Ryan Phillippe who is shirtless a lot!), hot gals (Neve Campbell back when she used to make movies!) and one atrocity of nature in the form of gamey hair Mike Meyers as owner Steve Rubell.  (Forget Freddy and Jason – that image will give you nightmares forever!)  There were rampant rumors that the film was much harder and racier early on, but this version from Mark Christopher is pure surface fluff – hardly the kind of thing that Blu-ray and it's preserving capabilities were designed for.  
Best Feature: There is a disappointing NO features on this sucker.  With all the controversy surrounding this film (the subject matter, the fact that they had to go through massive re-edits after low test screenings, the omission of a kiss between Ryan Phillippe and Breckin Meyer to name a few!) this one was ripe and ready for both a full-length running commentary by Christopher and a new Director's cut!  Shame on all involved!  (Though at least this wasn't an anniversary edition!)
Best Hidden Gem: Loved seeing wiener-dog Heather "Welcome to the Dollhouse" Matarazzo in this one!  (Almost forgot she was in here!)
Worth the Moola: Hell no – a so-so flick (and not helped by the beauty of Blu-ray!) with no extras?  "54" your cheap butt out the door and bring the bogus Blu-ray boogie with ya!