Blu-ray Review: '40 Days And 40 Nights'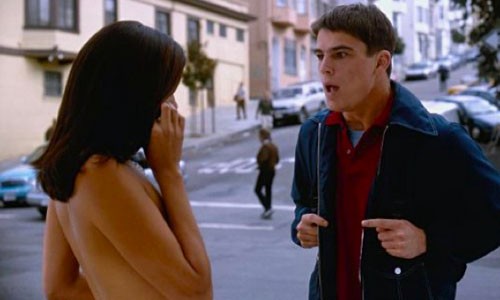 Can a man with a sexual history the span of a football field really go celibate?  Such is the premise of the new to Blu-ray this week Miramax/Lionsgate comedy "40 Days And 40 Nights" starring a young Josh "The Faculty" Hartnett and director by Michael "Heathers" Lehmann.  Check out the various temptations below!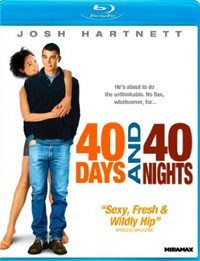 Title: "40 Days And 40 Nights"
   Grade: 3 1/2
   Cast: Josh Hartnett, Shannyn Sossamon, Vinessa Shaw
   Director: Michael Lehmann
   Rating: R
   Runtime: 95 minutes
   Release Company: Lionsgate
   Website: www.lionsgatebluray.com  
The Flick: Cleverly written, the flick is executed more like a decent elongated version of a "Three's Company" episode.  So within the premise of a broken-hearted Josh Hartnett looking to re-invigorate his life by going without is a film filled with staples like the comedy of errors (he's going without what?), the goofy hijinks (tongue licking lesbians - temptations everywhere!) and even a gang of Richard Kline-esk Larry friends betting on his demise.  But there's also some serious chemistry between Hartnett and free spirit Shannyn Sossamon (is it me or is she a dead ringer for Natasha Gregson-Wagner?!) , not to mention some tasty Griffin Dunne comical moments to boot!  (Go "After Hours" and "American Werewolf in London!")  An entertaining film with a 40 minute forget about it afterwards factor.
Best Feature: Commentary with Michael Lehmann, producer Michael London and screenwriter Robert Perez is interesting when hearing Robert tell the real life tale that he went through!
Best Hidden Gem: The lovely Vinessa Shaw is Hartnett's heartache that begins the journey – we now understand.
Worth the Moola: Fun for an afternoon – not for a lifetime.