Blu-ray Interview/Review: 'The Aggression Scale' Hidden Gem Dana Ashbrook Speaks!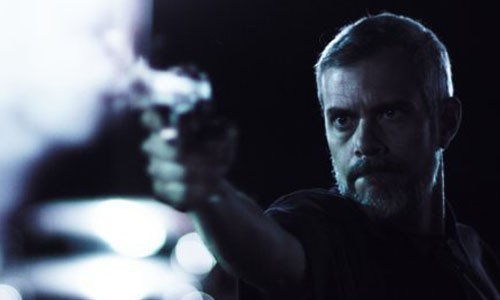 Any film critic worth his salt can tell you a great movie from nowhere is like ray of light in the aisles of darkness, but add to that a stand-out role to watch for and the cinema sun is in full force.  Hitting Blu-ray with a unique kid-like vengeance, "The Aggression Scale" (out May 29 from Anchor Bay Entertainment) takes the "Home Alone" concept to a homicidal place with some sinful results.  But the fun doesn't end there.  Hidden inside this memorable outing is one kick ass bad guy portrayal guaranteed to knock the socks off.  As the gun heavy gang leader Lloyd, actor Dana Ashbrook gives one of the coolest, slickest and most jolting performances and it marks a refreshing departure for the former "Twin Peaks" star.  (Plus with his physical and mental chameleon-like transformation here it's hard to recognize him at first glance!)  So we're celebrating our love of all things Aggression Scale with not only a review of the Blu-ray, but also a candid one-on-one chat with the Hidden Gem of the flick actor Dana Ashbrook, who talks about creating his manic character, working once again with fellow "Twin Peaks" alum Ray Wise, plus an interesting look back at the David Lynch series that shot him to stardom.  Duck and cover – here's the dynamic...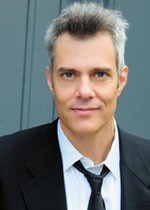 "The Aggression Scale" is a unique idea indeed – what were your first thoughts upon reading it?
Dana Ashbrook: The first thing that I thought was it reminded me of "Home Alone" – it was like "Home Alone" on crack.  It kind of became the mantra of the movie and that could actually help, but that's what it seemed like.  It was "Home Alone" if Kevin was instead of launching paint cans at guys was actually launching razorblades and guns and knives and stuff.  
Did you gravitate to the part of Lloyd?
DA: Yeah.  They'd mentioned to me they were interested in me for either the part of Lloyd or the husband.  But I wanted to play Lloyd – it's more fun to play the bad guy. 
You transformed yourself physically and mentally to play Lloyd – what was your input into the look and feel of the character?
DA: It was pretty interesting because when I came up with the look that I was interested in they were on the exact same page.  The whole gang was gonna be wearing workman's clothes like Dickies and they were just going to work – they were a working crew.  And I had just finished a play that I had this beard for, so I took it up there with me and they liked it and I kept it.  So that's how the look evolved for me - what I was already kind of sporting and what we came up with.  It was quick also so there was not a lot of prep time.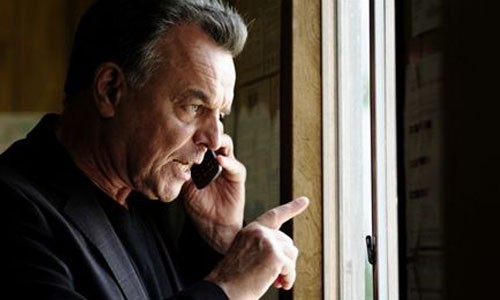 You got to play some scenes with fellow "Twin Peaks" alum Ray Wise – what was that like and did you guys have a short hand?
DA: I've worked with Ray more than anyone else in my whole career – I've worked on four different things with Ray.  He is a great guy and a great friend and I love him.  Every time we see each other it's been like no time has passed.  And interestingly enough when I heard he was coming up Travis Stevens (Producer) told me that I was gonna be really excited about who they cast for Bellavance and I actually guessed it right away.  'You're kidding me, Ray Wise?'  And he was like, 'Oh sh#t – yeah!'  Ray actually just flew in for a day on the movie and I thought that he had heard that I was in it maybe and he wanted to come do it with me.  Nope – he just read the script, liked it and wanted to come in and do a part.  When he got there he saw me and he was like, 'Hey Dana!  Great!'  He didn't even know that I was involved at all!  It's because he liked the movie and liked the guys.  Steven Miller really had what he wanted in his head, so there wasn't a lot of f#cking around – we got it done.
How long did the film take to shoot and did the frenetic pace help in terms of playing such a high-energy character?
DA: The whole shoot was quick – I think it was thirteen shooting days.  It was crazy short.  It's unbelievable.  It's unbelievable that there's even a watchable movie out of that, let alone something that's cool for the genre and for the amount of money.  I've always found that no matter how much you spend on a movie – you can spend sixty dollars or sixty million dollars – if the movie's good it's good.  The way it came out was so good and I'm really surprised because usually it's such a crapshoot doing these little small movies.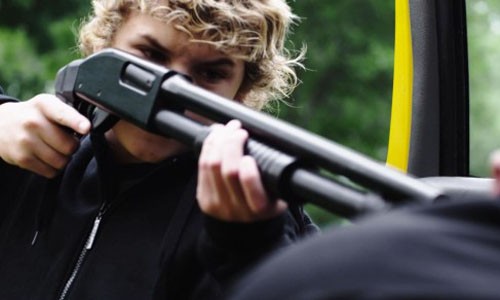 Ryan Hartwig played a pretty convincing psychotic kid – what was he like on-set and how did Steven mold that performance from someone so young and innocent?
DA: He's a great kid.  His parents were on the set the whole time and his little brother and he's like any young boy.  He likes playing paintball and running around and playing pranks on people.  The first time I met him I just got into town and they were having a pool party at one of the crew member's house.  He was beaming people with a volleyball trying to splash people and knock people into the pool – he's like a little hellion.  But I liked him and he was great.  He was just a kid.  He wasn't a Hollywood kid - he was just a normal kid.  He did great and I was actually really impressed with the final product and it was a great idea to not have him speak at all. 
Past work – as a kid you were in the famed cult classic "Attack of the Killer Tomatoes," so what do you remember about working on that film?
DA: It's so crazy, like one of those 'my sisters uncles brother', but it's literally like that.  My mother was married to her second husband and his son was this guy called Steve Peace who was the producer of it, he wrote it and he was the star of it.  He was the wacky lead guy with the parachute.  He had this company and he wanted to be able to have some sort of revenue raising thing, so they decided to make this movie.  And he was my stepbrother, I was eleven at the time and they had this sequence where the tomatoes are coming up out of the water and I didn't know what the hell it was about.  But I just went out there and did it and my mom and sister are in the scene as well.  But it was really strange and really weird.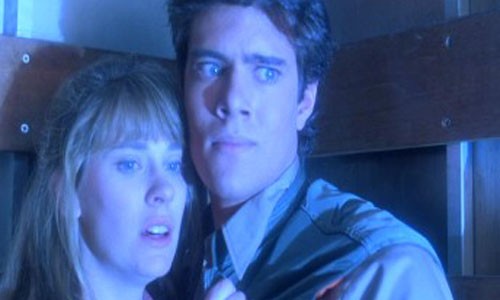 You were also in "Return of the Living Dead Part 2" – were you aware of the popularity of the first film and did you ever feel pressure to match it?
DA: No.  I wasn't aware of it at all and I wasn't a real horror buff as a kid.  But it was my first movie and so I didn't really have any preconceived stuff.  I'd never seen the first one – if I had I would have been bummed because the first one was so f#cking cool!  It was all punk rock and the music was cool and everyone was cool and mine was kind of dorky, but I liked it.  It was fun and it was light – ours was lighter.         
In "Twin Peaks" you played Bobby Briggs – a character that's essentially James Dean filtered through David Lynch – any idea when you got cast or while you were working on it that it would become so huge?
DA: No - I had no idea.  I knew that when I read the pilot it was the coolest thing ever and it was such a cool script.  But I didn't know what I was doing - I would have taken any job.  I just happened to be lucky that it all fell into place like that.  It could have been "Baywatch," you know what I mean?  I got lucky for some reason getting into that room with David.  So when I actually met with David and Mark Frost we had this great meeting and we just chatted and talked.  And I was myself, I'm kind of lighthearted and funny, making jokes and at the end of the meeting he was like, 'You know Bobby doesn't smile a lot – he's not a smiley guy.'  And I was like, 'No, no I won't smile!'  It was really just fun and David for some reason took a liking to me and I really didn't know why because I didn't audition, I just met him.  It was the easiest job I've ever gotten honestly.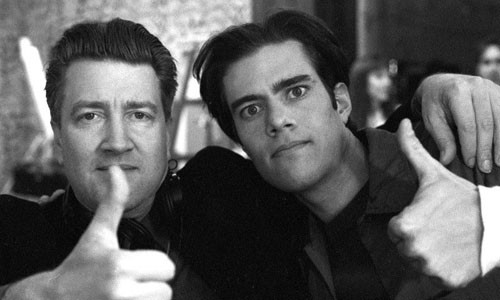 Let's talk David Lynch as his directing is a bit of a mystery. Can you compare working with him first on the "Twin Peaks" series and then later in "Fire Walk With Me" and specifically his process directing on-set?
DA: When he directed the series it was always such a relief.  It was great when we had other directors – we had great directors on Twin Peaks – but when David came on the set it was like the owner coming home and being able to do whatever he wants.  With others there were time constraints and money constraints and what not, but when David was there it was like we'll do it when I want to do it and get it done when we get it done kind of thing.  When we first did the pilot David would do this thing where he would sit on the front of the dolly, the camera would be on the dolly, and he would sit underneath the camera and watch the scene.  That was where he was – the monitors weren't really the thing then.  Now he's changed and he sits at the monitors with his headset, but he used to have his headset and sit on the front of the dolly and it was the coolest thing EVER.  And he always had music piping in his headphones; incidental underscore music and he would let us listen to it to give us the mood.  So he really perfected by the time he did the movie.  By the time we did Fire Walk with Me he had that on lockdown and he had a soundman that knew exactly what he needed, so it was pretty cool.  
Want more Aggression info – check out the review below!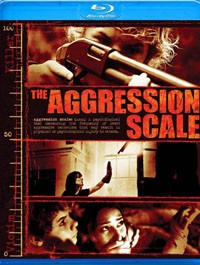 Title: "The Aggression Scale"
   Grade: 4
   Cast: Ryan Hartwig, Fabianne Therese, Dana Ashbrook
   Director: Steven C. Miller
   Rating: R
   Runtime: 85 minutes
   Release Company: Anchor Bay Home Entertainment
   Website: www.anchorbayent.com
The Flick: What starts off as a home invasion style revenge flick does a complete turnaround when the youngest boy of the family turns out to be a big Michael Myers fan.  What follows is a sick, dark and totally captivating mix of creative traps and cool kills that are only eclipsed by the awesome performance by lead baddie Dana "Twin Peaks" Ashbrook as the crazed gunman.  Top it all off with a creepy quiet kid and a little Ray Wise boss action (it's a Peaks reunion!) and you've got one of those rare flicks you never heard of that's a must see.
Best Feature: The uber-long 'Making-Of' is a fabulous one stop shop that the glorious Anchor Bay is known for – lights, camera, action!
Best Hidden Gem: Dana Ashbrook sheds his Bobby Briggs image once and for all in a stunning gray hair and beard transformation.  A tasty part that needs to be seen to be believed.  (And even mixed with a little Vincent Gallo like insanity for good measure!)
Worth the Moola: Love it when a flick that seems like fluff turns out to be tough – this one is a must see for genre fans.