Blu-ray Interview: Rosanna Arquette Talks 'Pulp Fiction' Blu-ray, Past Work And Going Dark For Xavier Gens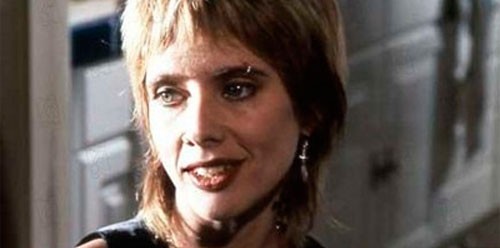 "Which one's Trudi?  The one with all the sh#t in her face?"  "No, that's Jody.  That's my wife."  And so we are introduced to Eric Stoltz's bitter better half Rosanna Arquette in Quentin Tarantino's famed iconic runaway smash.  That' right fans, the five-star "Pulp Fiction" is finally hitting Blu-ray Oct. 4 from Lionsgate (check out the review below!) and we thought we'd celebrate it's release with some one-on-one interview time with the fabulous Trudy 'sixteen piercings all done with a needle' gal herself Rosanna Arquette.  We chatted with the lovely Rosanna about all things Pulp including the infamous adrenaline shot scene, plus for all the movie geeks out there we also delved into a past body of work that puts the awe in awesome – from Scorsese to Cronenberg y'all!  Here's the lovely and uber-talented...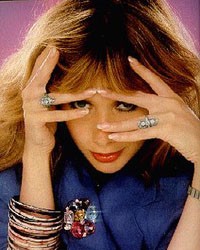 So how did you come about being cast in "Pulp Fiction?"
Rosanna Arquette: I'd met Quentin at a "True Romance" screening and I'd seen him around.  I'd read his script Mickey and Mallory, which was the best script I'd ever read in my life which ended up being "Natural Born Killers." But his original screenplay for that was unbelievable.  And then I got a call and he asked me to go to coffee and asked me to play Jody. 
Everyone remembers the feisty Jody as the girl with all the piercings – was that in the script and what was the process like putting on the various ones that could be seen?
RA: It was fun!  I actually did get my nose pierced for the film, but then it got really infected and I had to let it close up, so that was a drag.  But I just thought I need to get at least one piercing to do the role! 
You had a tremendous naturally antagonistic relationship with Eric Stoltz in the film – was that something you two had to work on?
RA: No – it just came out of me!  I think I just felt like that was where she was at.  She was just a cranky old bitch (laughs) who was just fed up with her husband's shenanigans and a guy who's just sitting in his bathrobe watching television and being a stoner – you know?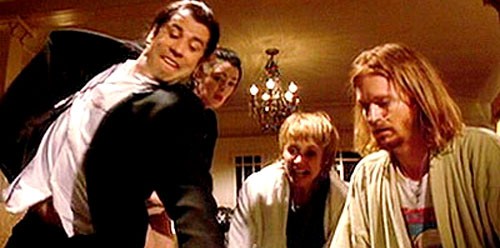 The scene where Mia gets the adrenaline shot is very tense in the final film – what was it like to actually shoot?
RA: It was tense – it was exactly what you see is what you get.  We were all in it; we were all in the moment.  We had this great rehearsal period because Quentin had us all rehearse for days together in that space.  So we were able to explore and try things and throw things out that didn't work, so when the camera started rolling we were just ready to rock.  It was wonderful though and everyone got along really well and it was a fun set. 
You obviously knew the script for the film was really good, but did you think that Pulp would become such a worldwide cultural phenomenon?
RA: No, not going into it.  You never thought that, but I was happy to be a part of it that's for sure.  And now that it's coming out on Blu-ray and it's gonna have a whole new audience.  I have a teenage daughter and she's seventeen and all her friends are starting to watch the film and discover the film now. 
You have worked with some of the most amazing directors in your awesome body of film work, just wondering if you could give a few comments on working with each...
RA: Sure – go ahead!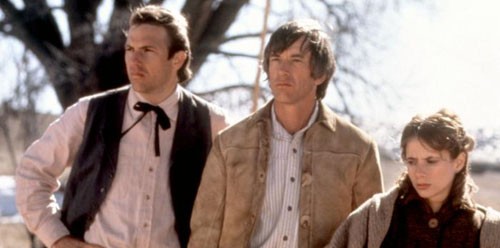 Okay - Lawrence Kasdan on "Silverado?"
RA: Oh, yeah.  Lawrence Kasdan...all I could say is that it was a cowboy movie, not a cowgirl movie!  (Laughs)
John Sayles on "Baby It's You?"
RA: I loved him.  I loved him so much.  He gave me so much freedom and he's one of my favorites.  If I had a top of the list he would be right up there.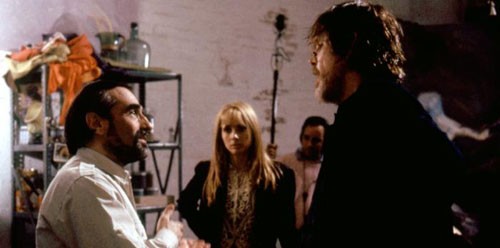 Martin Scorsese on both "After Hours" and 'Life Lessons' via "New York Stories?"
RA: He's number one – my favorite director I've ever worked with in my life.  It was the best experience and I loved working with him.  I got a phone call from Martin Scorsese one day and he had really loved "The Executioner's Song," the movie I did with Tommy Lee Jones.  And he got on the phone and asked me to do this film "After Hours," so that was exciting because he's always been one of my favorite directors. 
David Cronenberg on "Crash?"
RA: Yeah – he's fun!  I mean he was a sweet, good, nice man and so normal!  It's so funny that even his wife, she's always with him and you can't believe he directs these movies that are in his head because he seems like such a square normal guy.  But the film was in Cannes and we were there for the Cannes Film Festival and there were people that booed and booed and booed, you know?  They hated it.  And the Bernardo Bertolucci came up and said, 'This is an absolute masterpiece!'  (Laughs)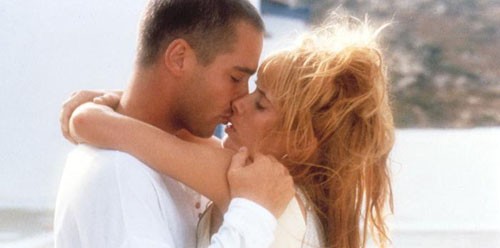 Luc Besson on "The Big Blue?"
RA: A movie that changed my life in many, many ways because we were gone for nine months.  So it was a long time and I'm still very close to the people in it.
Vincent Gallo on "Buffalo '66?"
RA: Oh my god!  Vincent!  There was a long time where Vincent was talking to me about playing the Christina Ricci part and I had anther movie I had to do in New York at the same time so I couldn't do it.  And it was so much better that he went with a younger girl and it made more sense because it would have been a little bit more twisted if she was older.  He is intense; he's a very, very intense guy, but he did a great job and I actually really love that movie.
Me too!
RA: Right?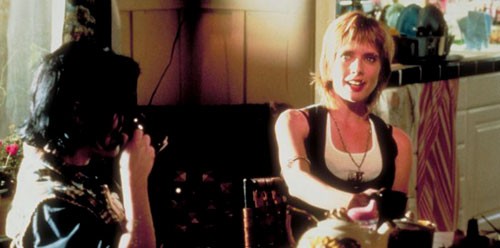 Absolutely!  It's insanely awesome!  And finally Quentin Tarantino on "Pulp Fiction?"
RA: Quentin was just a ball of fire and energy.  You're around him and it's just a mile-a-minute and he's a walking encyclopedia of every kind of film and television show that ever existed on the planet!  (Laughs)  He knows it – anything obscure!  It's pretty great!  I would love to work with him again.
Also I loved your affecting documentary "Searching For Debra Winger" – can you talk about what it was like making it, the reaction and do you feel like that movie helped in terms of shedding light on the fact that there should be more great parts for older actresses?
RA: I made that ten years ago and I feel like its really shifted since then.  There's a lot of powerful women on TV and there's great women doing great work right now.  And so its really shifted since we made that movie, I mean you look at Mary Louise Parker in "Weeds" and Glenn Close in "Damages" and there's just a lot of good women out there working.  It wasn't like that ten years ago at all; you couldn't turn on the TV at all and see strong women.  Now you're seeing them in films, like Angelina Jolie doing "Salt" that was written for a man and they turned it into a woman, that was great.  I like it.
What's next in terms of acting and directing for you?
RA: I'm gonna direct a feature film that is a small film, but it's based on my mother dying of cancer.  (Laughs)  Sounds like a real winner, doesn't it!  No, but it's gonna be a dramedy – a lot of intensity, but it's also moving.  And acting wise I have the film coming out that I did with Xavier Gens...
Yeah, who did "Hitman" and "Frontier(s)!"
RA: Right!  And it's a new film called "The Divide" that was a really a great experience, one of my favorite experiences I've had in years working.  It's super, super dark and twisted, but I had a great time doing it!  Really dark character for me and I haven't done anything like that in a lot of years - that's supposed to be coming out in January.
Then let's add one more to the director list – Xavier Gens?
RA: What was great about it for me like a Martin Scorsese or a Quentin Tarantino is they trusts their actors and their instincts and allows them to come up with stuff and Xavier was like that.  The film takes place in New York, a nuclear bomb goes off, eight people rush down into a basement and have to survive and what happens in it is pretty horrific.  So he allowed what would happen, you'd become crazy, and he was very inspiring.  We started having that almost psychic feeling with each other, which I had with Martin Scorsese, where he would come up to me and I would know exactly what he was going to say and what he wanted or vice versa.
You won't know the facts, till you read the Blu-ray review below!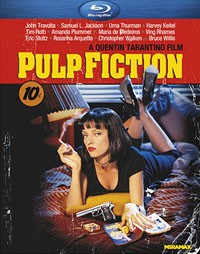 Title: "Pulp Fiction"
   Grade: 4 1/2
   Cast: John Travolta, Bruce Willis, Samuel L. Jackson
   Director: Quentin Tarantino
   Rating: R
   Runtime: 154 minutes
   Release Company: Lionsgate
   Website: www.lionsgatebluray.com  
The Flick: If you don't appreciate the stunning performances (Travolta once again at the top of his game!), the witty banter (Jules and Vincent are like Randall and Dante from "Clerks" – but with guns!) and total unpredictability (Zed, the gimp and ball gags – who would have seen that one coming!) you can't claim to be a movie geek.  A movie lover himself, Tarantino infuses his fiction with all the lovely things we admire about cinema, and hauls away all the trite we don't.  Five star work – period. 
Best Feature: The 'Interviews with Cast' mixed with 'Pulp Fiction: The Facts' Featurette give good insight from all involved about Pulp, Quentin and everything in between!  (But half a star off for so little Uma and a virtually MIA Zed and the gimp!)
Best Hidden Gem: Jack Rabbit Slims has to be the coolest set ever (can I make a reservation for one!) and the gimp is just too sick and demented to simply ignore!
Worth the Moola: Pulp.  Fiction.  Blu-ray.  Do you really need me to fill in this section?