Blu-ray 3D Review: 'Hugo' - Martin Scorsese's Homage To 'Cinemagician' Georges Méliès Proves 3D Isn't Just For Action Films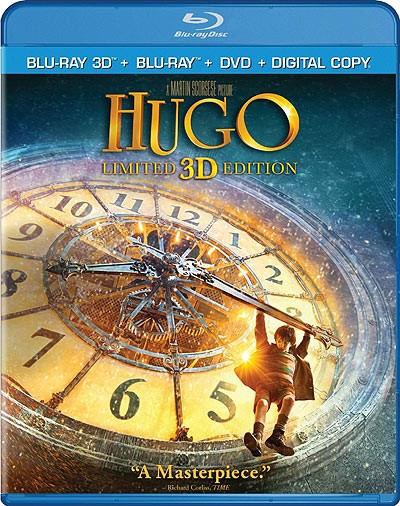 When one thinks of Martin Scorsese rarely does the word 'family' cross their mind (unless they're thinking of Goodfellas, that is); and neither does the term 3D. So when the prolific director decided to bring Brian Selznick's 2007 children's book The Invention Of Hugo Cabret to life on the big screen - and in 3D - he was entering new territory.

The end result, Hugo, is nothing short of amazing. The film was nominated for 11 Academy Awards, winning five: Best Cinematography, Best Art Direction, Visual Effects, Sound Editing and Sound Mixing. Five reasons to see it the way it was meant to be seen: in 3D.

Scorsese's latest masterpiece was released Tuesday, February 28 on DVD, Blu-ray, and Blu-ray 3D, and the latter is just one more reason that movie fans who haven't yet upgraded to 3D TVs and 3D Blu-ray players need to do so - Hugo is a must-have.
It's easy to get sucked in and fully immersed in 1930s Paris from the comforts of your own living room, and Hugo is proof that 3D isn't just meant for the big screen. Scorsese's attention to detail is unparalleled - from the vibrant colors inside a bright, bustling train station - right down to dust specks floating through the air - to the cold chill of a snowy Parisian night, Hugo is spectacular in Full HD 3D.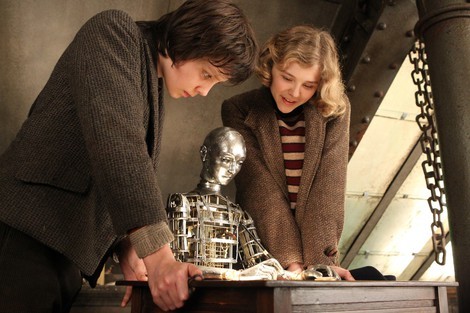 The story centers on an orphan boy, Hugo Cabret (Asa Butterfield), who lives in secret inside the walls of a 1930s Parisian train station.
Hugo comes from a family of watchmakers and clockmakers; and one day a shopkeeper (Ben Kingsley) at the station catches him in the process of stealing and takes his treasured notebook, which holds the secret to fixing a mechanical man - an Automaton - capable of drawing pictures that Hugo and his father (Jude Law) began restoring before his father's untimely death.
The boy ultimately gets the Automaton working with the help of a new friend, Isabelle (Chloe Moretz), and the two are thrust into spellbinding adventure to find the answer to a hidden message from the Automaton, which Hugo believes is from his dead father.

The two learn that Papa Georges - the shopkeeper and Isabelle's Godfather, is none other than Georges Méliès, a magician who went on to become one of the pioneers in filmmaking at the turn of the 20th Century.
While Papa Georges is unhappy and trying to forget his past, Hugo and Isabelle's adventure is set on a course that will ultimately lead to a happy ending for all involved.
The film (and book) is based in part on the real story of Georges Méliès' life as a filmmaker, which is explored in the Bonus Features section on the Blu-ray disc.  Dubbed 'The Cinemagician' for his style of filmmaking, which was basically the birth of camera tricks and special effects, Méliès made over 550 films, most of which were lost over the years after his filmmaking career came to an abrupt end due to lack of audience interest after World War I.
Méliès was devastated and forced to sell most of his films to shoemakers, who melted down the celluloid to be used in women's high-heels. Fortunately many were later found in private collections, including his most recognizable - Le Voyage dans la Lune (A Trip To The Moon), which features a rocket ship crashing into the face of the man in the moon (see photo below).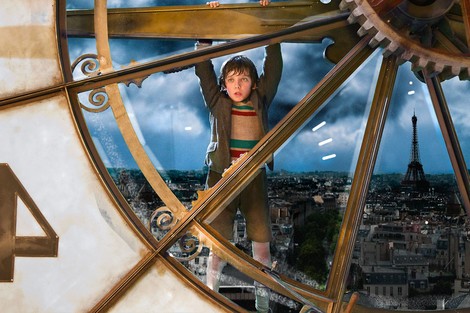 Bonus Features include:
"Shoot the Moon (The Making of Hugo)", which features plenty of details about the film's creation packed into a 19-minute featurette. Here we learn that Scorsese was a huge fan of 3D while growing up and that he even owns original prints of classic 3D features House Of Wax and Dial M For Murder. His youngest daughter, Francesca, also wanted him to finally make a film she could go see!
"The Mechanical Man at the Heart of Hugo" -An interesting (and somewhat creepy) 12-minute featurette about the Automaton created for the film (it's real and really works!) and the history of the mechanical marvels, which have been around for centuries.
"Big Effects, Small Scale" - This six-minute featurette focuses on a miniature model of a train crashing through the train station, which was based on a famous photograph.
"Sacha Baron Cohen: Role of a Lifetime" - A three-minute interview with the comedian and filmmakers on his role as the Station Manager. Naturally Cohen hams it up for the cameras.
Pros:
-The film itself in stunning, Full HD 3D is truly like no other; with a wonderfully enchanting story and spectacular visual effects. There's a reason it won those five Academy Awards.
-Viewing options: don't have 3D yet? Get the 3D version and sit on the disc until you do. The regular Blu-ray, DVD and digital copy give you the ability to watch in the living room, bedroom, kitchen and even the bathroom.
-Price: Want Hugo in 3D? The Combo Pack was released on February 28, and you can get it on Amazon.com right now for $27.99 (it lists for $54.99). That's probably for a limited time before the price goes up, and it's worth every penny.
Cons:
-The Bonus Features are too short. Clocking in at barely over 30 minutes - yet still packed with detail - it would've been nice get some deleted scenes or more insights into the filmmaking process.
Enter here for your chance to win one of three copies of Hugo on Blu-ray!