Blink 182 At The Red Bull Soundstage Concert Review And Encore (Video)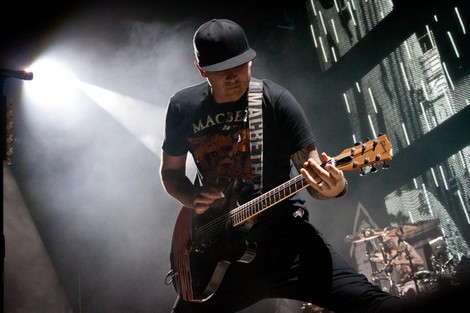 "It's way too early to play rock music," Mark Hoppus announced to the amped up crowd. It was 11:45 a.m. on a Thursday and for most bands it's far too early in the day to be awake let alone play a six song set. But for Blink 182, comprised of Hoppus, Tom DeLonge, and Travis Barker, and their dedicated fans at the KROQ Red Bull Soundstage, it was the perfect time.
The Red Bull Soundstage is a small room only fit for a few hundred people, allowing for an intimate musical atmosphere that most fans will never get the experience. Ever since the dinky office space was transformed into a rocking soundstage two years ago, lucky fans have had the opportunity to see bands like Coldplay, Thirty Seconds to Mars, Imagine Dragons, Maroon 5, Miguel, and many more perform on the stage. Their names and signatures can even be seen crowding the walls.
Blink took a break from a busy sold out concert schedule, including a gig at the Palladium later that day, to perform for the hundreds of rabid fans in front of them, as well as those tuning into the live broadcast via the internet. While they're used to playing sold out shows, the band joked that this show reminded them of their first gigs where the venue was so hot that they used to just throw all their clothes away afterward.
Watch the complete encore performance here
The audience contained hundreds of hardcore Blink 182 fans, buzzed on complimentary Red Bull, many of whom had won their tickets in a free raffle. During the six song set, which included a few of the band's most memorable hits, the entire crowd belted out the songs in harmony with the band.
The intimate set included "Feeling This," "Miss You," "Violence," "Down," "Always," and "Dammit." Afterwards during a Q and A, the band discussed business ventures, making their experimental self titled album and the impact that the late Jerry Finn had on their recording career. "The world's a lot poorer without having him here," Hoppus said.
The crowd each received a poster to commemorate the show. However, for the majority who had grown up on the band, the real prize was the once in a lifetime experience to get up close and personal with their favorite band.