Blanchett Shines While 'Elizabeth: The Golden Age' Burns

It is hard to know what to expect when coming into
Elizabeth: The Golden Age
, a delayed sequel of a film that 10 years prior had been a heavy player at the Oscars. Back then, the film centered around the performance of
Cate Blanchett
, who stunned viewers with her complex portrayal of the loose cannon lover who becomes England's famous virgin monarch. (A Queen and Oscar buzz? Sound familiar? It should! See Oscar Queen Facts at bottom of page.)
Blanchett does a superb job, but this film has a hard time finding its center and its pains dull the effort of a strong cast.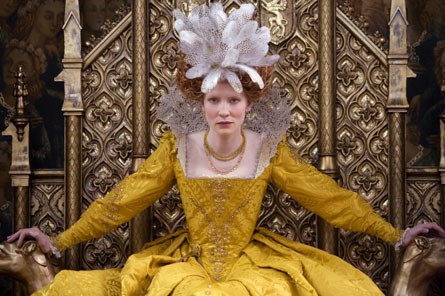 Director
Shekhar Kapur
tries to be epic from the word go. A booming soundtrack and melodramatic title screen give way to the dark King Phillip of Spain (Jordi Molla), who is so overwrought by his evilness he comes across more like Igor, Frankenstein's famed humped assistant, than like a cruel dictator.
Indeed, the Spanish are portrayed as so malicious, conniving, and slimy that they often come off as more comedic than threatening. It is a product of too much shadow, black fabric, and brooding underscore. One half expects Darth Vader to head the Armada.
When it is not being epic, Shekhar finds his way back to his original Elizabeth's roots, with Blanchett trying to find a suitor. Unfortunately this all moves rather slowly, and while its visuals set up the world of Elizabethan England beautifully, the first 20 minutes feel like a well-lit history lesson. Never mind the fact that this film rewrites history as it sees fit, which is a given since the "Elizabethan Golden Age" didn't begin until after the struggles depicted here had already played out.
Eventually, things get going with the introduction of Sir Walter Raliegh (
Clive Owen
), who acts as a breath of fresh air, both for the older and primmer Queen and for the bored audience. Only now, with the introduction of a love triangle between Elizabeth, Raliegh, and the ward, Bess (played by the breathtaking
Abbie Cornish
), the film is stuck in a conflict of its own: Will it be a study in the rich character of the Queen, a love story, or a historic action-adventure? The rest of the film is spent teeter-tottering between those three options, but on occasion it gets out of its own way, allowing the fantastic cast to bring real intrigue and suspense into the picture.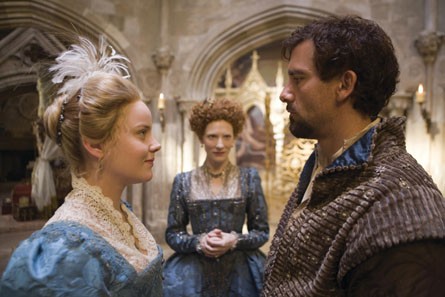 Blanchett's greatest success comes when the predictably strong and dry woman in power begins to fall apart. Once she begins the struggle to kill the human being inside and keep up her powerful façade, some magnificent work takes shape. The power of this actor fighting on screen drives the movie.
Owen, meanwhile, brings a sensible charisma and boldness to his historic character. His presence in this movie is little more than that of a playboy, but he is as always enjoyable to watch.
Geoffrey Rush
(Sir Walsingham) appears to have a complexity to his conscience and a thousand different motives, but we never see him. We know that he is trying to guard against the impending Catholic doom, but for the most part his moods and mannerisms come off as schizophrenic. Still, since Rush's technique is flawless and engaging, the fault probably lies with lack of screen time.
The unsung hero of the cast is
Samantha Morton
, who plays Mary Stuart. While the Spanish are busy twisting their evil mustaches, Morton plays a different villain. Her Mary Stuart seems to be struggling to convince herself that she is a good person and the rightful ruler. Her effort to hold her composure and convince herself of her heroism is sadder than even Blanchett's breakdowns.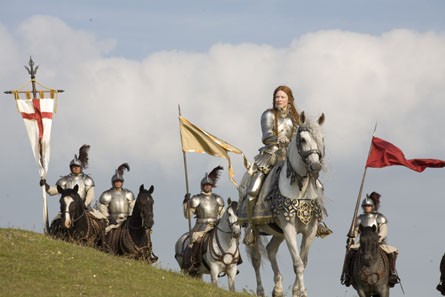 Sadly, the work of these actors is splintered much like the defeated Armada as Kapur steers the ship back toward its epic ending.
Blanchett's performance goes from compelling to over the top as she delivers a Joan of Arc speech to the troops aboard her steed, a moment too reminiscent of
Braveheart
to be anything but cliché and annoying.
The famous battle with the Armada is reduced to a mix of Clive Owen action shots and reports in back in the "war room." While the up-close fighting works far better than the larger computer shots of thousands of ships (now well worn territory since
Troy
and
300
), slow motion scenes of mutilated bodies feel somewhat out of place in a movie that never succeeds in establishing itself as an action adventure.
All this would be forgiven if it weren't for the final moments, with an ending so over the top it would make Cirque du Soliel blush. Blanchett stands victorious in a circle of exploding light, her cape billowing in the wind, much like the ending of a
Superman
flick. It is the last gasp from a movie that just never finds its bearings. It's too bad, since Blanchett is clearly capable of shining without the aid of over-exposing the film.

OSCAR QUEEN FACTS
Since the inception of the Academy Awards there have been seven actresses to play a queen and earn nominations for their performances, with two playing
Elizabeth the I
(Including Blanchett herself in 1998). No doubt Mrs. Blancett hope's that the second time around is the winning charm, as it was for
Helen Mirren
and
Judi Dench
. Before winning an Oscar in 2006 for playing Queen Elizabeth II, Mirren was nominated for a different queen, Charlotte, in
The Madness of King George
(1994). For Judi Dench, a nomination in 1997 for her role as Queen Victoria in
Mrs. Brown
bore no Oscar fruit, but just a year later she returned to the nominees pool playing Blanchett's very same (though somewhat senior) Elizabeth I in
Shakespeare In Love
. That time, Dame Dench found herself in the winner's circle. Blanchett, to be fair, has one gold statue to her name already for
The Aviator
. Blanchett's winning portrayal was that of
Katharine Hepburn
, who incidentally was the first actress to be nominated and win an Oscar for her portrayal of a Monarch, Queen Eleanor of
Aquitaine in The Lion in Winter
(1968). It was a win that Hepburn shared, a tie for Best Actress with the Queen of the Divas herself,
Barbra Streisand
(
Funny Girl
).
Sources: The Academy of Motion Pictures Arts and Sciences online database and IMDb.
Review by
James Fagan
Starpulse contributing writer