Blake Shelton Reveals Keys To Marital Success With Miranda Lambert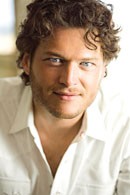 Singer Blake Shelton has opened up about the key to his successful marriage with Miranda Lambert, revealing sometimes it's important to be "a bit of a pushover."

The country star couple wed last May and "Honey Bee" hitmaker Shelton insists their life as husband and wife has been nothing but bliss.

And Shelton, who was married to someone else when he first met his current wife, is convinced he knows what it takes to keep their relationship afloat - undying loyalty and compromise.

He tells Redbook magazine, "I think you've got to be confident and a bit of a pushover. Obviously, you've got to be a loyal person. I'm never going to listen to someone trash my wife.

"I think you have to be willing to take a bullet for somebody if you're going to stand up there, take your vows, and be married to them for the rest of your life."

And the hard-partying singer is grateful Lambert hasn't tried to change him, confessing he took it upon himself to settle down in a bid to be a better partner.

He adds, "I think she has probably tamed me a bit. Or maybe it's because I'm 35, and you start to calm down anyway. But I think a lot of it has to do with feeling settled and lucky to have ended up with the person I really wanted to be with. To me, that's being tamed in the best possible way.

"You just say to yourself, 'I'm done, I'm thrilled, I couldn't be any happier.' Miranda would never want to tame me into being somebody I'm not, and I would never try to do that to her."