Blake Shelton And Miranda Lambert Share Their Secrets To Marital Bliss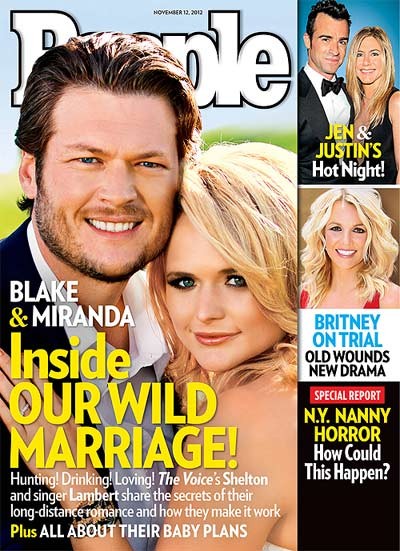 After 18 months of marriage, Blake Shelton and Miranda Lambert – the work-hard, play-hard couple – open up in this week's issue of PEOPLE about long-distance love, Oklahoma vs. Hollywood, and why they're waiting to start a family. He's the breakout star of The Voice, they're the Academy of Country Music's reigning male and female vocalists of the year, and they were each nominated for four CMA awards (they swept) – including one for a song they wrote together.

In a world where celebrity marriages routinely grow strained by distance and competing careers, Shelton, 36, and Lambert, 29, aren't taking anything for granted. "What are the odds of two people being married and at the height of their careers at the same time and in the same field? And of making a relationship work with that spotlight on us?" Shelton marvels. "It should seem more difficult, but somehow it's just not. We don't feel any different. We try to be as normal about our relationship as we possibly can be."

According to Shelton, they wouldn't still be together if it weren't for his wife, whom he met in 2005 when they sang a duet for a CMT special. "I'm telling you, she's kept us strong," he says. "Especially in the early days when it was easy to give up and say, 'This is too hard.' She's the one that always found a way." For her part, Lambert says her husband is "very caring and loyal," traits she saw in play earlier this year when his father, Dick, passed away. "All he did was make sure everyone else was okay before he would even worry about himself. Watching that made me love him that much more."

Lambert is so devoted to her husband that she routinely travels across the country to spend even a few hours with him. "She does that for me way more than I've ever done that for her, I'll be the first one to admit that, because I'm old and I'm more apt to give up and she won't," says Shelton. (Lambert also sings on his new holiday album, "Cheers, It's Christmas" and will appear on his TV special in December, while she is preparing to record a new album with her trio Pistol Annies (as if her solo career isn't enough). "She's always been the one to go through hell to make sure we spend time together," Shelton says.

Since exchanging vows beneath an arch of antlers in her home state of Texas in 2011, Lambert recently estimated their "us time" has totaled only about 150 days. To even make that happen, they've followed one rule: "We won't go more than two weeks without seeing each other," she says. (They're so used to the schedule, that last spring, Shelton told PEOPLE that if they see each other too much, "we'll kill each other!") The couple text often and try to speak to each other once a day, but both admit they're not fans of Skype or long phone calls.

"We really just hang at our house (a rented home in the Hollywood Hills) and spend time together just as if we're at home in Oklahoma," says Lambert, who will turn on country music in the mornings while she cooks bacon and eggs. And at night, "we literally have laughs on the couch with our dogs and watch a movie," she says. She adds that avoiding the LA party scene "keeps us sane."

Eventually the couple will settle down in their sprawling ranch to raise a family – just not right now. "That's the one thing I really want to plan the right way," says Lambert, "because I don't want to have children and raise them on a plane or a bus…Right now, we're both at our peak and having a blast, and I don't think either one of us are thinking about changing a thing."


*Also In This Week's 'People'*
Exclusive Excerpt – Pippa Middleton's Perfect Day
Britney Spears Under Pressure: Ex-Manager "Wanted To Take Over Her Life"
Election Exclusive – Obama & Romney Share Their Closing Arguments
Jonny Lee Miller On His Marriage To Angelina Jolie: "It Was A Lifetime Ago, But We Are In Touch"
Jennifer Lopez & Casper Smart – One Year Together!