Blake Neely Takes Us Inside Composing For 'Arrow' And 'The Flash'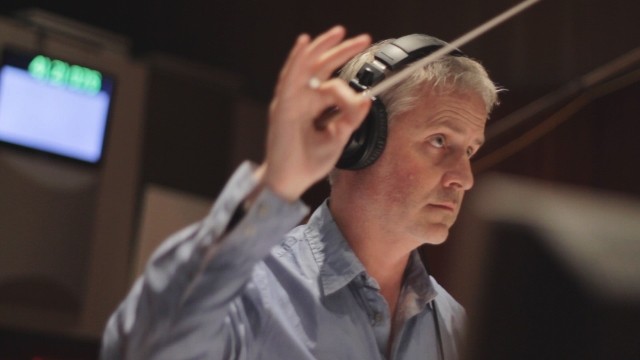 If you love Arrow or you're getting excited for The Flash, you've got one person to thank for the awesome music: composer Blake Neely. Blake sat down with us for San Diego Comic-Con to talk about scoring superheroes for The CW and his long working relationship with executive producer Greg Berlanti.
"We've been at it for twelve years now. This is a really, really long time," Blake said of his collaboration with Berlanti. "I met him in 2002. He was looking for someone to score his first show, Everwood. We met and I sent him a demo and he hired me. We have such a shorthand and such a trust. When a new show comes up, we talk a little bit about the project and I read the script, and he basically says do what you're thinking and I'll tell you what I think after you do it. He really gives me free rein."
Much like John Ottman's partnership with director Bryan Singer, Blake and Greg have worked together on a number of projects, including a number of under-the-radar shows like ABC's Eli Stone and Brothers and Sisters, as well as USA's James Wolk-led miniseries Political Animals. Now their next project is The Flash, which began within the framework of Arrow.
"Here's what happened with Flash," Blake explained. "Right at the [start] of the second season, they said, we're going to be introducing a new character, Barry Allen, who's The Flash. We'll be introducing him in a couple episodes of Arrow, and if all goes well, we'll be spinning him off into his own show.
"That was very exciting, but when we got to that episode, it was intimidating. I'm probably months away from scoring The Flash, but I've got to introduce him in this episode," he continued. "There's such a huge history of The Flash and expectations with the fan base and decades of comics, as well as there's already been a Flash television show scored by the amazing Shirley Walker."
The nerves are completely understandable, but Blake also knows how to create a fantastic television score. His work on Arrow has proven so popular that one score album has already been released and another is on the way next month. What does it feel like when he knows he's composed something successful?
"There's a relief when you find the sound of the show and the main theme for the show," he said, but that's just the start of his workload. "With Arrow, we've done 46 episodes now, so 46 hours of television, and with each episode there's anywhere from 30 to 35 minutes to write of new music and adapted music and the reshaped theme, things like that. There's a sense of relief when you've nailed it...but there's also still a panic of 'I hope the ideas don't run out!'"
Here's a sample of Blake composing for Arrow.