Blake Lively Talks Ben Affleck, Fashion, 'Gossip Girl' And More In Marie Claire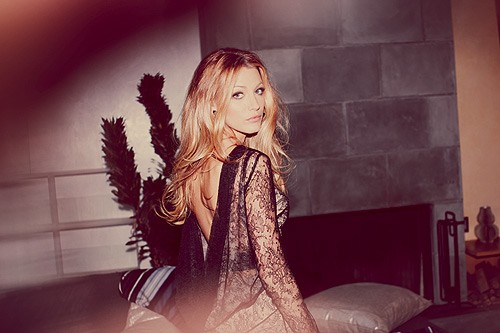 Marie Claire UK talked to Blake Lively about her new film, "The Town," starring and directed by Ben Affleck.

Without any knowledge of her "Gossip Girl" role (he supposedly thought she was fresh out of acting class), Affleck was so impressed by her audition that he rewrote the part of Krista, a drug-addicted single mother and ex-girlfriend of Affleck's character in "The Town," especially for her.

Blake Lively on cooking and staying at home:
Despite her natural warmth and cosy front - she'll insist later how she prefers cooking to going out, ("That's my true talent, acting pays the bill")

Blake Lively on "Gossip Girl":
"I'm on a very commercial show so the last thing I want to do is a commercial movie," she expands. "'I wanna take risks, I don't wanna play it safe. I mean, I could probably make more money if I did more commercial projects. It would be nice to buy an apartment but I'm 22 and I don't need to yet." [She currently shares her rented abode with boyfriend, Penn Badgley.]

How long are you signed up for?

"We have six-year contracts but who knows how long TV shows ever run. They don't always go the full term contracted… We're in season four."

Blake claims she knew the instant she read the first "Gossip Girl" script that, "Whoever does this is not going to be able to walk outside of their house."

Blake Lively on Fashion and being a style icon and Chanel"
I wonder how she feels about being labelled a style icon. "I've always loved fashion," she beams with child-like enthusiasm. "Love it!" she repeats before adding, "that's why I don't use a stylist. Number one, it's such an expression of self," then regales me with the tale of how, while filming "Gossip Girl" in Paris, she recently got to meet a fashion hero of hers, Karl Lagerfeld. "I was speaking with Anna Wintour," she casually name-drops the famed editor of Vogue, "and we were just talking about different fashion houses and I said, 'I love Chanel,' and she said, 'You should come with me to the show.' I also said I loved Dior. She said, 'OK, well, I'll take you to the Chanel and Dior shows and we'll meet with Karl and John [Galliano] afterwards.' So I went to dinner with Karl Lagerfeld and we got to spend a lot of priceless time together. Oh my gosh, riding around in Karl Lagerfeld's Rolls-Royce with the top down. Insane!"

"It was like a fairy tale," she gushes. "Afterwards we went to dinner and we're climbing back inside his Rolls-Royce and someone said to me, 'See, you're so lucky, you get to see the real Paris with the real Parisians.' And I said, 'What part of this do you think is the real Paris and the real Parisians! This is fairy-tale Paris.' It's not everyday life. I mean, I know I'll go back but it won't be the same."

Blake Lively on Penn and being famous:
Do you ever Google yourself?

"No," she almost sneers at the idea. "Why? I mean, I'm with myself all of the time. Why would I want to see myself on the internet? I can look in the mirror. I think it's destructive."

All she'll say about Badgley is that, "At the end of the day, you're just in any relationship. How does anybody go to work every day and come home? You just do it and it either works or it doesn't."

Then she reminds you of how much of a homebody she is: "You know, I don't have very many friends that are actors, the ones that I do have are people I've worked on films with for months. I don't go around collecting people for my BlackBerry because I want to have phone friendships."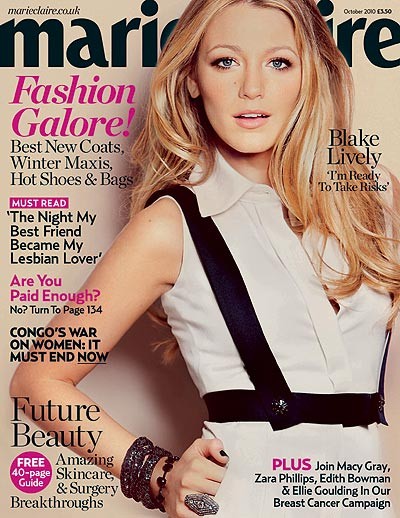 Check out more pics of Blake Lively at MarieClaire.co.uk!
More: Celeb Photo Features | Fashion Photo Features
Want more Blake Lively pictures? Click these to go to her gallery - there's tons!