Blake Lively Sizzles In A Red Studded Mini Dress At Hurricane Sandy Benefit Concert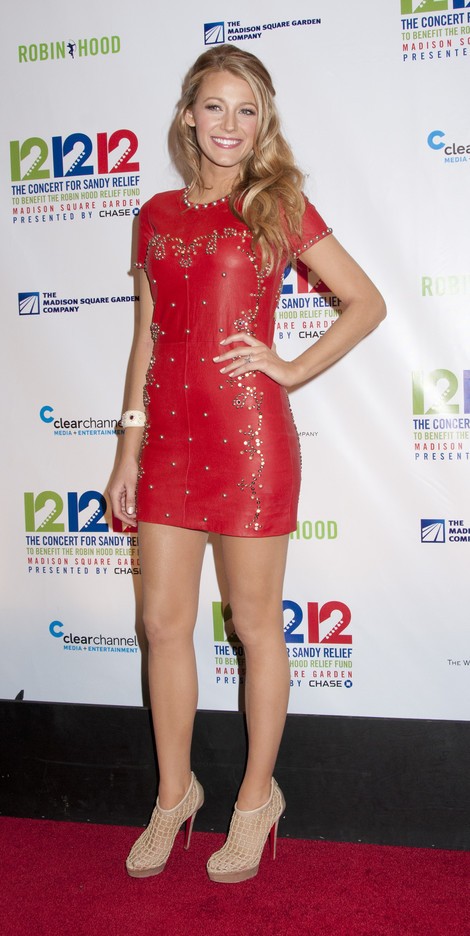 Last night millions of people tuned in to the concert benefitting the Robin Hood Relief Fund to aid the victims of Hurricane Sandy. Performers such as the Rolling Stones, Alicia Keys, Bruce Springsteen and Kanye West took part of the nearly six hour event at Madison Square Garden in New York City.
Actress Blake Lively made an appearance, showing off her long legs in a red studded mini dress and beige heeled booties. Katie Holmes, Susan Sarandon, Olivia Wilde, Chelsea Clinton, Jeremy Piven, Martha Stewart and many other celebrities also came out to support those who were hit hard by the superstorm.
Comedian Billy Crystal was the first celebrity of the evening to share his story of his hard-hit hometown of Long Beach in Long Island. He told the crowd, "It was the perfect place to grow up - the motto of our town is, 'I have Long Beach sand in my shoes' and now that sand is still in their kitchens, and their living rooms, and still in their streets. The ocean I used to dream about became their worst nightmare.
"No one could have anticipated the level of devastation Sandy would bring, or just how many lives it would affect. Over 100 people died, over 600,000 homes and 500,000 businesses were destroyed or damaged, entire neighborhoods were wiped out...
"(But) not only did Sandy not put us down, we stayed on our feet and tonight, with your help, we will emerge stronger and better than before."