Blake Lively Dazzles In A Jeweled Burberry Dress At 'Turbo' Premiere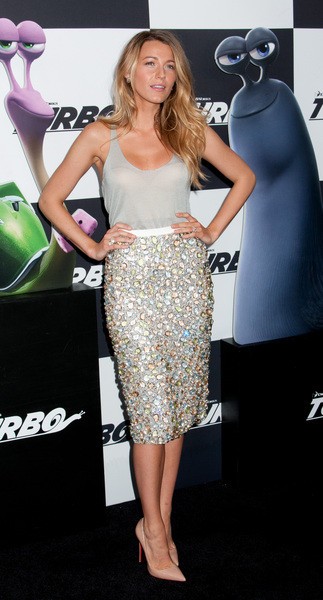 Blake Lively attended the "Turbo" premiere in New York City to support her husband Ryan Reynolds' new film, but she elected not to pose with her sweetie on the red carpet.
She did, however, link arms with her older brother Jason Lively and his two sons.
Blake stunned in a knee-length Burberry dress with large jewels on the skirt. She wore nude pumps and let her long blonde hair drape over her shoulders.
Hubby Ryan opted for a midnight blue suit with a black button-down shirt and brown skinny tie.
The animated film centers on Turbo, a snail who desperately wishes to escape his slow-paced life and dreams of being the greatest racer in the world. It hits theaters on July 19.
Check out more photos of Blake, Ryan and others from the premiere...