Blair Late Dishes on Bravo's 'Newlyweds: The First Year'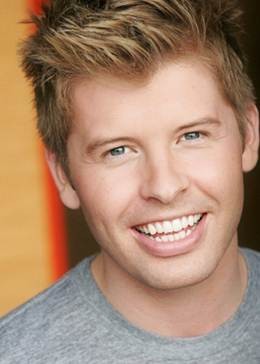 What would make someone want to put their entire first year of marriage on national television? That's the question BFTV asked Blair Late, one of the stars of Bravo's new docu-reality series, Newlyweds: The First Year. Blair and his spouse Jeff Pedersen were game to have the network follow them around for the beginning of this new chapter of their lives, and national audiences are about to see the results.
"We quickly decided that this would be a fantastic experience for a myriad of reasons," explained Blair. "Just capturing your entire first year of marriage was pretty special. Getting the chance to show people all around the country a different take on a gay couple that's not a scripted sitcom or a drama. And also we just wanted to prove to the world that we really just have the same problems as anyone else."
For the pop star turned entertainment reporter, it was "literally love at first sight" when he met Jeff; Blair moved in four months later and six months after that, Jeff proposed. "I do think we have a really interesting story," Blair said, "especially because Jeff comes from a really educated, somewhat non-conservative family in California. They're pretty much anti-gay. I'm from Texas and come from a very Republican family, but they are completely supportive of me."
So how exactly did Bravo get an entire year of Blair and Jeff's lives on TV? "Once we actually agreed to do the show, we basically started having daily, in the beginning, conversations for a couple hours a day with our producers out of New York," Blair explained, adding that the network also interviewed close friends and family members. "We would discuss with the producers what was really going on. They would choose [from] the cornucopia of things going in our life to focus on. Then they would spend multiple times a month shooting us - for almost thirteen months.
"But then when they were not around, they also gave every couple a couples cam, and we were encouraged to use that every day if not a couple times a week," he added. "We would use them for if some heated topic came up, or if something great happened, or even as almost a confessional tool."
The TV show process yielded some surprises for Blair as well. "I didn't think I was going to get as close as we were with our executive producer and director, Lauren Lazin," he added. "She was an Oscar nominee [for 2003's Tupac Shakur documentary Tupac: Resurrection]. She's won Emmys as well. She was like a therapist slash motherly figure to both Jeff and I, and she was so wonderful throughout the process. I didn't expect learning as much about myself as I did."
What can the audience expect from Newlyweds? "Just look forward to Jeff and my's comedic banter," he enthused. "With or without cameras, we constantly have such a zest for life and for laughter. I think you'll see that on camera. You'll see in the first episode when we're signing our domestic partnership - but don't be fooled, because episode four will show our big fabulous beautiful wedding, and I can't wait for people to see that because it's pretty fantastic. I wrote a song for Jeff and I'm excited for people to see that."
One thing that's important to Blair is establishing that he isn't one of the countless folks who've tried to make themselves into an overnight celebrity through the reality TV genre. "I've had a long career leading up to this, and I'm not just some kind of random reality person trying to get famous," he said. "I've been singing, dancing, and acting since I was a young child. I went from that to styling A-list celebrities and doing PR for fashion, and that turned into hosting, and that turned into really being a pop culture entertainment reporter. I've been doing this a long time, as far as being on camera!" If you want to see some of Blair's diverse resume, which also includes music and his new cardigan line Crest & Letters, visit Blair's official website.
There's no shortage of things on Blair's calendar. The self-described "social butterfly" - it actually says that on his business cards - has taken up cooking, enjoys shopping, and watches a wide variety of TV from Netflix's House of Cards to CBS's The Good Wife and AMC's The Walking Dead.
He's especially tuned in to his new network. "I watch all the Housewives shows, every single one. I pretty much watch everything on Bravo," Blair commented, and he wouldn't mind staying on their air awhile longer with another season of Newlyweds. He told us, "I hope we do year two!"
Newlyweds: The First Year premieres tonight on Bravo (check your local listings for specific time and channel). You can also keep up with Blair on Twitter (@BlairLate) and by visiting his official website.
(c)2013 Brittany Frederick. Appears at Starpulse with permission. All rights reserved. No reproduction permitted. Visit my official website and follow me on Twitter at @tvbrittanyf.