Black Sabbath Stars Work Through Thanksgiving For New Album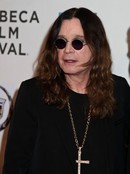 The original members of Black Sabbath refused to break off from recording their new album to celebrate Thanksgiving on Thursday and worked through the holiday, according to Ozzy Osbourne's daughter Kelly.

Osbourne, Bill Ward, Tony Iommi and Geezer Butler announced earlier this month they are reuniting for a 2012 tour and a new record.

They've been busy working on their material, and the rockers spent their Thanksgiving in the studio.

In a series of posts on her Twitter.com page, Kelly Osbourne writes, "Thanx OfficialSabbath 4 ruining my thanksgiving by staying in the studio u miserable old tea drinkers! ps I'm bringing u food to the studio. Since its just me and my mum in town looks like we will now be spending thanksgiving in the studio with OfficialSabbath could be worse."

But the TV star's father Ozzy still made the day special for his daughter. She adds, "To make up for the fact that my dad was with OfficialSabbath recording he made me the best sticky toffee pudding for thanksgiving dinner!"