Black Sabbath Heading Back To Birmingham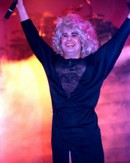 Newly-reunited rockers Black Sabbath have moved their recording sessions from Los Angeles to the British city of Birmingham where they started their career.

The musicians began recording material for their new album earlier this month at the home of guitarist Tony Iommi, who is currently undergoing treatment for cancer.

However, a statement from the Ozzy Osbourne-led group has now confirmed they have left the U.S. and flown back to their hometown of Birmingham to finish writing their new songs.

A message posted on the band's Facebook.com page reads, "The guys have moved writing sessions from Los Angeles to Birmingham, England. Sabbath has gone back to where it all started and it's been just amazing."

"This is where the writing of the album will be completed. Funny how it all goes full circle sometimes."