Black Sabbath Drummer Bill Ward Pulls Out Of 2012 Reunion Shows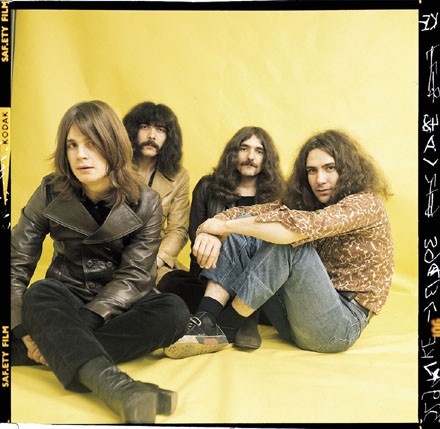 Black Sabbath drummer Bill Ward has officially pulled out of the group's reunion plans - because he can't get along with his bandmates and their managers.

Ward threatened to quit earlier this year after revealing he had not been given a "signable contract" and the group pledged to continue with reunion shows without him.

Now, just four days before Black Sabbath's Lollapalooza festival warm-up show in the group's native Birmingham, England on Saturday, Ward has written a lengthy letter informing fans of his decision not to be a part of the get together.

In the correspondence, which the drummer has posted on his website, he reveals his bandmates - Geezer Butler, Tony Iommi and Ozzy Osbourne - asked him to play drums on three songs during their set at the Download Festival in June. He refused. He also claims the band asked him to perform at Saturday's gig for free. He turned that offer down too.

He writes, "I sincerely regret to inform you that after a final effort to participate in the upcoming Sabbath shows a failure to agree has continued. At this time I have to inform you that I won't be playing with Black Sabbath at the Birmingham gig dated May 19th, 2012, nor will I be playing at Download on June 10th, 2012. Further, I will not be playing at Lollapalooza on August 3, 2012.

"It is with a very sad heart that I bring you this news. I am sincerely passionate in my desire to play with the band, and I'm very, very sorry that it's fallen to this. This statement is even more painstaking to write, as I was particularly excited to play alongside Tony Iommi after the recent treatments he underwent. I wanted that to become a reality."

Iommi was diagnosed with cancer earlier this year, forcing the band to scrap plans to headline the Coachella festival in California.

Ward adds, "I hold no malice or resentment towards the other band members. I love them; I'm tolerant of them; I'm frustrated with them, as they may be with me. My fight has never been with them. I'll love them forever. In my opinion, nobody wins this time; the band doesn't win; the fans for an original line-up don't win. Nobody wins, nobody. Even the ones who thought they did.

"I didn't want to make this decision, but I have to be honest and transparent. This is the statement I didn't want to write; it's the last thing I wanted to do. But, I have written it, and now it can go into the universe."

But the rocker insists he will consider rejoining the group at a later date if he receives what he considers a fair contract: "Even though I'm at an end with the upcoming announced concerts, I will remain with an open mind and a position of willingness to negotiate 'signable' terms with Sabbath's representatives in the future."