'Black Panties' Review: R. Kelly Sounds Exceptional Vocally But Goes Overboard Sensually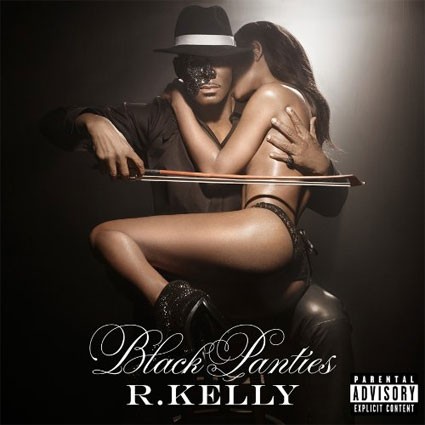 R. Kelly sounds exceptionally vocally on Black Panties, goes overboard sensually.
R. Kelly has a compelling argument for the title of the "King of R&B", easily.  For years and years, the sensually driven R&B singer has captivated audiences with his R- (and sometimes X-) rated brand of contemporary soul, ultimately epitomizing the urban sound.  Like many of his contemporaries and other artists he's influenced, Kelly's sales have taken a tumble from their glory days – the plight that is R&B music these days. Kelly's previous two albums consisted of brand new material, but found the singer relying on his retro-soul and adult contemporary R&B sides as opposed to risk-taking contemporary R&B.  There's little to knock about the consistency of either Love Letter or follow-up Write Me Back, however both lack Kelly's 'bad boy' persona.  That certainly is not an issue on Black Panties, an effort that is drenched in sex, sex, and more sex.  Sometimes Kells hits the jackpot, while others he oversteps moral boundaries.  Regardless, Black Panties is unapologetic R. Kelly.
"Legs Shakin'" opens Black Panties with a bang… no pun intended.  Slated somewhere between contemporary R&B and perhaps a more age-appropriate adult contemporary R&B (Kelly is in his 40s), "Legs Shakin'" offers the best of both worlds.  Kelly's mind is keyed in on the bedroom, evidenced by a shallow, simplistic chorus: "I'm going down, down, down / do it to your legs shakin'".  If Kelly's pronounced focus on physical pleasure wasn't enough, a guesting Ludacris enters into the picture to 'put a cap' on it.  While it's a bit long at four and a half minutes, "Legs Shakin'" isn't too shabby.
"Cookie" may be a better track, though you have to get past it's raunchy, cringe worthy lyrics to enjoy it.   Edgy with no escapes, R. Kelly clearly doesn't give a flip what anyone thinks (see "Shut Up" later on). "Mm, like an Oreo / I love to lick the middle like an Oreo / Oreo, Oreo, like an Oreo / I wanna bite it and get inside it…", Kelly sings on the carnal hook.  Perhaps the most shameless moment is when Kelly sings "Cookie, cookie, cookie – I'm a cookie monster…", before delivering every inappropriate reference he can string together. Desperate? Maybe, but Kelly has always been 'left of center'.
"Prelude" wastes three minutes of time, period.  Kelly is going for an edgy, street savvy interlude, but he overindulges in utter ridiculousness.  Somewhere between the guy talk and overindulgence in both f-bombs and n-words,  "Prelude" is a big-time turn off.  "Throw Money On You" isn't exactly the most chivalrous tune, but at least Kelly seems like he's into it.  After all, all Kelly wants to do is "throw money on you…".  The bridge sports one of the most ridiculous, sensuous lines: "Damn girl, you my type girl / a** swole like it's been stoned by the whole hive girl…" Definitely not Shakespearean writing, that's for sure.  After "throwing money", Kelly rewrites the classic tale of 'the guy she's with is no good, and he can treat her better' on "You Deserve Better".  Sure Kelly crowns his new potential lady, but he also tries to entice her with material things… but who am I to judge?  Ultimately, it's a decent track, but not exactly one to write home about.
"Marry the P***y" is as shallow as they come, like really shallow.  "This is a sex proposal…gonna get down on my knees and ask that p***y to marry me…" Really R., really? If Kelly was going for something romantic, this is not it.  The subtle approach usually works better.  Standout single "Genius" isn't an innocent track by any means, but it's also not nearly as 'in your face' as "Marry the P***y".  The chorus says it all: "I'm blessed it feels, like to please yo body / girl tonight you're lying with a sex genius / nothing like the ordinary, I'mma love one / but tonight you're lying with a sex genius".  Perhaps he's just keeping it real.  Regardless, "Genius" is well produced, suggestive enough without being obnoxious.   Kelly sweetens things more with "All the Way", a lovely duet with Kelly Rowland.   How's the vocal chemistry you ask? Magnificent.  The backing vocals also play a big role in making "All the Way" the standout that it is.
I was rather unimpressed with "My Story" when I first heard it ahead of Black Panties.  It's not horrid, but the gimmickry just doesn't tickle my fancy.  Kelly's approach is more of a pop-rap one and you're given the impression that he's opting to hang with the young crowd here… SWAG.  "Right Back" finds Kelly using vocal effects and ultimately going "right back to my n***as…" Charming right? Basically, Kelly never turns his back on his friends, I suppose.  If "My Story" and "Right Back" had their question marks, the hard club cut "Spend That" is what it is – a sick, slick banger.  Jeezy provides the assist and sounds right at home here; "Spend That" sounds similar to Jeezy's own "R.I.P."  The best / most absurd R. Kelly line you ask? "Got Picasso on the wall, I spend that / Tom Ford on the drawers, I spend that / three b**ches, one me / and they all on the dick, call it 3D…" Shameful, but 'it is what it is'.
Penultimate cut "Crazy Sex" leaves little to the imagination, something that is a con throughout Black Panties.   Closer "Shut Up" is stronger, featuring production work that is a mix between gospel and contemporary R&B.   What's sort of odd about "Shut Up" is the fact it has a bit more of an inspirational tone that contrasts the filthy-minded cuts that make up the majority of black panties.  Sure, there's nothing wrong with Kelly thanking God for his voice given his vocal issues, but it's definitely strange Kelly goes from having "crazy sex" to testifying… just sayin'!
So how does Black Panties stack up?  It has its good moments and its clumsy ones.  An observation I'd make is that it seems at times that R. Kelly tries too hard to be "in".  There's nothing wrong with Kelly adapting to the 'new style', but he's a bit too eager perhaps.  Yes, "sex" is what Kelly does, but he falls into some of the pitfalls that The-Dream did on IV Play from earlier this year where he overdoes it one too many times.  I'm glad to see risqué Kelly once more, but I also think he could've better balanced Black Panties with some more refined cuts.
Favorites

:

"Legs Shakin'"; "Cookie"; "Genius"; "All The Way"; "Spend That"
Verdict: ★★★