Black Eyed Peas' Taboo To Mark Sobriety With Haircut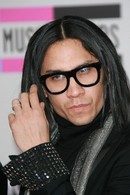 Black Eyed Peas star Taboo is cutting off his trademark long hair for the first time in 22 years to show he is a "new man" since conquering his alcohol and drug problems.

The musician, who was arrested in 2007 for DUI, has spoken candidly about his battle with addiction in the past, revealing his behavior caused friction in the band before he cleaned up his lifestyle.

Taboo, real name Jaime Luis Gomez, has been teetotal for the last four years, and he now wants an image overhaul to match - on Tuesday he will chopping off his long locks, which he admits he used to "hide" behind while high on narcotics.

In a series of posts on Twitter.com, he writes, "I will be doing something... that I haven't done in 22 years ... Cut my hair off it's time to go son!!! It's time for a new me!! The long hair scary guy 2003-2007 doesn't live here anymore he left along with the drugs and alcohol, out with the old in with the new."

"The long hair represented a time period for many years now it's really time to get to new chapter and look I'm 36 now it's time for change. I like showing my face now before I always wore hair down and dark glasses to hide the drugs I was on..."

"Not me anymore, I'm a new man."