Black 47 To Perform For 18th Consecutive St. Pat's Day At B.B. King's Bar & Grill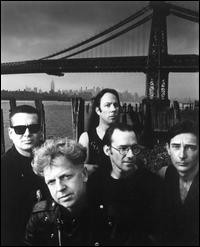 Seminal Irish rockers
Black 47
have announced a March tour to honor St. Patrick's Day, including March 17 at
B.B. King
's Bar & Grill marking their 18th consecutive New York City performance on the holiday. Often called "the house band of New York City" Black 47 return to their roots on 42nd St/Times Square, an area they celebrate in many of their songs.
This show will coincide with the launch of
CelticLounge.com
, a unique international online community for all Celts and those who admire Celtic Culture established by Black 47 founder Larry Kirwan and Irish Voice writer Mike Farragher. The need for such a site struck Kirwan while on the road promoting his memoir, Green Suede Shoes. "I was driving back to Manhattan from Cleveland and dozing with still over 400 miles to go. I knew there had to be an easier way to reach an audience. Our goal in launching this space is to redefine what it means to be a Celt by changing the way Celtic artists deliver their work to a people deeply in love with their roots," says Kirwan.
Due to ongoing radio play and continued interest in the song, Downtown Baghdad Blues, Black 47 are re-releasing
Bittersweet Sixteen
, a 16-track retrospective of their recording career from early 1990 to the present. The CD contains two new songs, "Southside Chicago Waltz" and "Joe Hill's Last Will."
Bittersweet Sixteen
is packed with previously unavailable fan favorites including "Home of the Brave" and "Patriot Game," unreleased tracks from their first recording session. Two of the highlights are the original mix of their hit "Funky Ceili" and a movie-commissioned version of
Stephen Stills
' "For What It's Worth."
Bittersweet Sixteen
, with a song for every year of their career, is an excellent introduction for the newcomer but also a must-have for the avid Black 47 fan who has appreciated the band's distinct originality and uncompromising political stance down through their career.
About Black 47: Led by Larry Kirwan (guitar/vocals), Black 47 is recognized as the premier Irish-American rock group who paved the way for the current Irish punk/roots explosion led by such bands as Flogging Molly and The Dropkick Murphys. Kirwan helps program Celtic Music for SIRIUS Satellite Radio and hosts his own show, Celtic Crush, twice weekly. His new play,
The Heart Has A Mind Of Its Own
will be produced in New York City in September. Both his novel,
Liverpool Fantasy
, an alternate history of the
Beatles
, and a memoir,
Green Suede Shoes
, have received strong sales and much critical acclaim.
Black 47 plays over a hundred gigs a year in North & South America and Europe. Their winter Saturday night NYC shows have been described as "a rite of passage for all New Yorkers." Having once closed down the town of Hoboken, Black 47 shows are legendary and incendiary.
For tour dates and more information visit:
www.black47.com
.
Black 47 will tour the following cities in March:
March 1 Staten Island, NY St. John's Univ ( Larry Kirwan solo)
March 3 Framingdale, NY Nutty Irishman
March 8 Bronx, NY Manhattan College
March 9 Upton, NY Berkner Hall Auditorium
March 10 Glen Falls, NY Celtic Festival
March 14 Milwaukee, WI Shank Hall
March 15 Chicago, IL Beverly Arts Center
March 16 New Haven, CT Toad's Place
March 17 New York, NY BB King's Bar & Grill
March 23 Buffalo, NY Buffalo Icon
March 24 Cleveland, OH Wilbert's
More on Black 47 here.