Black 47 Singer Launches Irish Online Community On St. Patrick's Day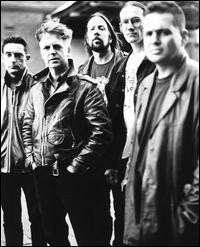 Irish Voice columnist Mike Farragher and musician/novelist/playwright/Sirius Radio host Larry Kirwan of
Black 47
are pooling their resources to establish CelticLounge.com, a unique international online community for all Celts and those who admire Celtic Culture. The site will launch on St. Patrick's Day, March 17th when Black 47 will celebrate its 18th Holiday gig in New York City, at
B.B. King
's Bar & Grille.
On its front page,
CelticLounge.com
will also offer a webzine devoted to the music, art and literature of the Celtic people. In a very user-friendly site members will build their own profiles, share ideas, pictures, favorite songs and writings, all the while making friends as they listen to Celtic Lounge Radio play the music of member artists. CelticLounge.com will be a place to create, see and be seen.
"In my ten years writing for the Irish Voice, I have seen Celtic musicians reach across the globe and collaborate with players from other civilizations to create thrilling sounds that redefine our culture," says Farragher. "That vibrant spirit has little to do with green beer, shamrocks and drunken leprechauns. CelticLounge.com will be an online community for original thinkers and those who would like to interact with them."
The need for such a site struck co-founder Larry Kirwan while on the road promoting his autobiography, Green Suede Shoes. "I was driving back to Manhattan from Cleveland and dozing off with still over 400 miles to go. I knew there had to be an easier way to reach an audience." As the leader of one of the most influential bands in Irish Americana, Kirwan is familiar with the plight of many working musicians. "There is a massive international audience for Celtic music, very little of which gets on radio or TV. CelticLounge.com intends to provide such a forum for artists as diverse as Flogging Molly and Enya, Alan Stivell and The Saw Doctors, Stiff Little Fingers and The Peatbog Fairies. We wish to create a social space where people who love things Celtic can gather, hear the music, read the books, create their own individual pages and meet other people of like minds."
CelticLounge.com will be a space where all Celtic artists can share their craft with over 60 million people claiming Celtic ancestry in the United States and millions more living in Scotland, Ireland, Wales, The Isle of Man, Cornwall, Brittany, Asturias, Galicia, and other Celtic oriented countries such as Australia, Canada and England. "Musicians and writers are not our only interest," says Farragher. "If you have an organization, are a travel agent, pub owner or businessperson who in some way caters to things Celtic, CelticLounge.com will help you expand your community."
"Our goal in launching this space is nothing short of redefining what it is to be a Celt by changing the way Celtic artists deliver their work to a people deeply in love with their roots," says Kirwan.
CelticLounge.com will go live on Saturday, March 17.