Bjork: 'Technology Is Not The Enemy Of Music'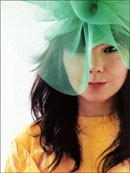 Kooky singer Bjork vowed to make her groundbreaking multimedia album Biophilia as technologically advanced as possible in a bid to show the world the internet is not "the enemy of music."

The Icelandic singer released her eighth solo album earlier this month, announcing the record was part-recorded on an iPad and would be available as a series of apps.

Each app has animation and various interactive functions - and the former Sugarcubes singer has revealed she set out to prove to music industry bosses they can utilize modern technology to their advantage.

Bjork tells NME magazine she hit upon the idea after losing all her music distribution deals following her last tour in 2008.

She says, "It had an emotional effect on me. I felt like I was off the grid, and maybe it was time to address how for 10 years I'd just been listening to people moan about how the internet was killing music. And I was like, 'Hang on, technology is not the enemy of music. Maybe it's because we've let businessmen set up the model of how we distribute music.'

"If artists would just get involved... iTunes have agreed that I can just add app by app. That's like any musician's wet dream. I think it's important, while the internet is still moving, to try and make it into what you want it to be. Although then my mind was like, 'Uh-oh, this is dangerous for a musician,' because I'm gonna be like, 'Oh, does that mean I could add a glockenspiel in February...?' Don't give me that option, or my mind will just go berserk."