B.J. Novak Revealed As Yet Another Villain In 'Amazing Spider-Man 2'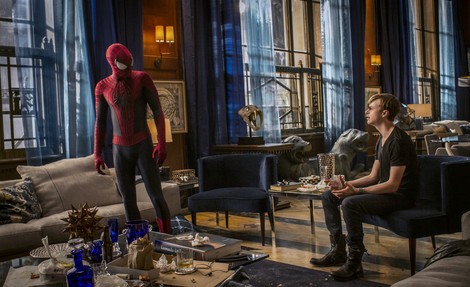 How many villains is too many? Spider-Man may find out in his upcoming movie, because B.J. Novak has been revealed as the fourth baddie in The Amazing Spider-Man 2.
Director Marc Webb spilled the beans when he promoted Novak's book "One More Thing" on Twitter. Webb posted, "Almost shot ASM2 in B+W til @bjnovak's (A. Smythe) promo for his excellent book ONE MORE THING beat me to it."  Webb was referencing a black-and-white ad for the book.
One tidbit many picked up on, however, was the "A. Smythe" role attached to Novak's name. Who is A. Smythe? It stands for Alistair Smythe, the son of Spider-Slayer inventor Spencer Smythe. Spencer was hired by J. Jonah Jameson to create robots to slay the superhero.
Alan, who was paralyzed, carried on his father's legacy by creating a bioorganic carapace for his body that allowed him to walk and go toe-to-toe with Spider-Man.  He named himself the Ultimate Spider-Slayer and tried to take down Spidey several times.
Webb actually teased a Novak appearance last year on Twitter, writing, "Day 38. A supposed rumor about a Dunder-Mifflin takeover of Oscorp? @bjnovak." Attached was a photo of Novak.
Although Alan may not become Ultimate Spider-Slayer in Amazing Spider-Man 2, it does up the villain count to four: The Rhino (Paul Giamatti), Electro (Jamie Foxx), Harry Osborn (Dane DeHaan), and Smythe.