Billy Talent's Drummer Recovering From Open Heart Surgery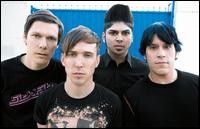 Canadian rocker Aaron Solowoniuk is recovering from open heart surgery.

The Billy Talent drummer, 37, who suffers from multiple sclerosis, recently went under the knife to repair a leaky aortic valve.

In a post on the group's website, Solowniuk writes, "The surgery went perfect but healing takes a while."

He alerted fans to his condition on the site earlier this month, writing, "In March of 2006, I wrote a letter telling you all I have MS. Now I am writing you to tell you that I have a problem with my heart that needed to be fixed."

The drummer's recuperation is expected to take up to two months and as such the band has pulled out of a performance at Belgium's Groezock festival in April.

He writes, "We were really looking forward to this as it was the perfect show to start touring this record... To all our fans in Belgium, we promise we will make this up to you."