Billy Ray Cyrus Teams Up With Buck 22 For Hip-Hop Flavored 'Achy Breaky Heart'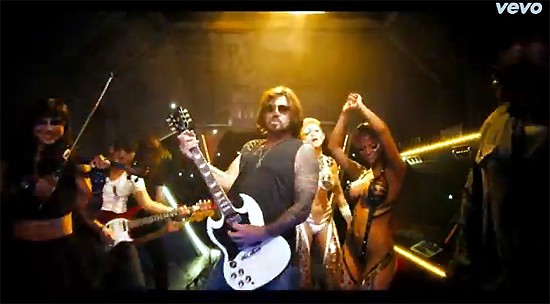 Billy Ray Cyrus' "Achy Breaky Heart" has gotten a major do over by Dionne Warwick's rapper son Buck 22.
Over 20 years after the original tune hit airways, "Achy Breaky 2" includes country and hip-hop samples but keeps the iconic chorus in tact.
The single also references Cyrus' daughter Miley and her infamous "twerking."
The music video dropped on Tuesday and features Cyrus and Buck 22, real name Damon Elliot, abducted by scantily clad aliens dancing around a spaceship.
The video begins with Larry King releasing breaking news about an "unidentified flying object seen transcending over Europe." The nearly naked aliens beam Billy Ray on board so they can listen to his music and show off their twerking skills.
Cyrus and Buck 22 met after the country star recorded a duet with Warwick in 2012, titled "Hope Is Just Ahead."
Meanwhile, Cyrus, 52, is still focusing on his acting career. He will play a celebrity-turned-preacher in the upcoming television series "The King is Alive." Wayne Newton has been cast to play his uncle.