Billy Ray Cyrus Pays Tattoo Tribute To Native American Legends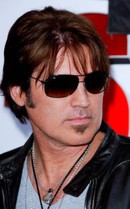 Country star Billy Ray Cyrus has paid tribute to his Native American heroes with tattoos on his forearms.

The "Achy Breaky Heart" singer reveals he had Chief Joseph and Geronimo inked last year during a 48-hour period.

He says, "I've just always had a great deal of respect for Native Americans; I'm part Cherokee myself.

"Chief Joseph gave a wonderful speech years and years ago, called 'From Where the Sun Now Stands, I Will Fight No More Forever' (and) I actually memorised that speech in the sixth grade.

"And Geronimo, I used to think I was Geronimo when I was a kid."

Cyrus, who is pop star Miley's dad, wishes his fellow Americans had taken the Native American environmental message to heart years ago: "Part of their belief was taking care of the Mother Earth. Wouldn't it have been great if we would have listened to some of that?"