Billy Ray Cyrus Not Ready To Discuss Daughter Miley's Raunchy VMAs Performance
Billy Ray Cyrus has broken his silence over daughter Miley's raunchy performance with singer Robin Thicke at Sunday night's MTV Video Music Awards, saying that he'll always support her.

"I'll always be here for Miley," he tells Entertainment Tonight. "Can't wait (to) see her when she gets home. She's still my little girl and I'm still her dad regardless how this circus we call show business plays out. I love her unconditionally and that will never change."

Billy Ray had posted a message on his Twitter page late Sunday night that fans though was about Miley's performance, but he cleared things up later.

He said that his tweet, "Thanking God for so many blessings tonight. Continue to pray for world peace. More love... less hate", was about the troubles brewing in Syria over the country's leadership using chemical weapons on civilians.

"FYI 'Love Not Hate' Late last night I was watching devastating news out of Syria," he wrote on Monday. "Chemical weapons used on innocent children is unacceptable!"

But that was all Billy Ray was saying about it. In fact, he had a planned interview with talk show host Piers Morgan that he canceled at the last minute on Tuesday night to avoid discussing the subject.
"I'm not sure he's quite worked out what his explanation is yet so we've decided to postpone [the interview]," Morgan said during the show, which went on with back up guest Morgan Spurlock.
"We are going to get the first interview," he added. "I know he's watching tonight, so, Billy Ray, good evening, and when you're ready, we will talk about this."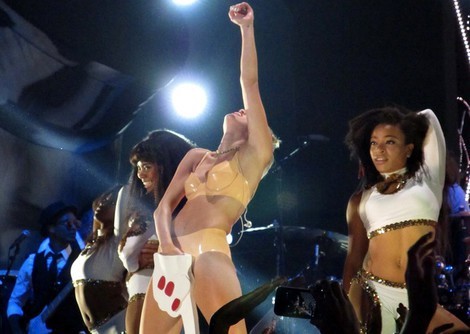 Miley came under fire following the performance, during which she wore a very tight rubber flesh-colored two piece outfit and "twerked" against Thicke's crotch, aside from making other sexual gestures with a giant foam finger.

Stars like Brooke Shields, who played Miley's TV mom on hit Disney Channel showHannah Montana, called the performance "desperate".

"I just want to know who is advising her and why it's necessary. My six year old and my 10 year old, they can't watch that."

And singer Cyndi Lauper said, "So sad... She is a young twenty-something trying to prove she can hang with the big boys and girls, you know, basically simulating a Girl Gone Wild (sic) video onstage and I just felt like that was so beneath her and raunchy, really raunchy. It wasn't even art."

Even Thicke's mother, actress Gloria Loring, found the performance to be too much.

"I just keep thinking of her mother and father watching this," she said. "I was not expecting her to be putting her butt that close to my son. The problem is, now I can never unsee it."