Billy Ray Cyrus And Bret Michaels Mark Pearl Harbor Anniversary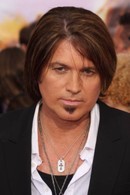 Singers Billy Ray Cyrus and Bret Michaels have paid tribute to war veterans on the 70th anniversary of the Pearl Harbor attacks.

The country star and rocker Michaels remembered the lives lost in the Japanese attack on the Hawaiian naval base in 1941 by taking to their Twitter.com and Facebook.com pages on Wednesday to mark the sombre day.

Cyrus wrote, "National Pearl Harbor Remembrance Day 70th Anniversary. 'SOME GAVE ALL.'"

Meanwhile, Poison rocker Michaels quoted a famous speech from former President Franklin D. Roosevelt, and added, "The 70th Anniversary of Pearl Harbor. Today we remember Pearl Harbor and all of those who were lost on that day."

The Pearl Harbor attack prompted the U.S. to join the Allied Forces in World War Two.