Billy Gardell Buys His Wife A House For Valentine's Day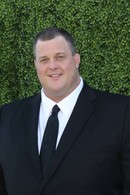 Mike & Molly star Billy Gardell gave his wife a Valentine's Day to remember - he bought her a house.

The Bad Santa funnyman purchased his very first home and handed the keys to his longtime spouse Patty as a present.

He says, "Valentine's Day was good. I bought her a house... Unbelievable. First house. I never thought I'd have bricks under my feet. Especially this kind of house. I grew up in an alleyway in Pittsburgh (Pennsylvania), I've been in a one-bedroom apartment for 15 years."

"And I got to buy this house and I literally walk around and wait for the owners to come home and go, 'Listen, thanks for house-sitting, now get the hell out of here.'"

And Gardell admits he's still trying to impress his new neighbors - although he fears his hot rod motorcycle may soon be disturbing the peace.

He adds, "I'm white trash so I got to ease on the neighbors... I brought the hot rod over... I wanted them to think we were decent people before, ya know, 7am and (they hear the engine roaring)."