Billy Dee Williams And Emma Slater Talk 'Dancing With The Stars'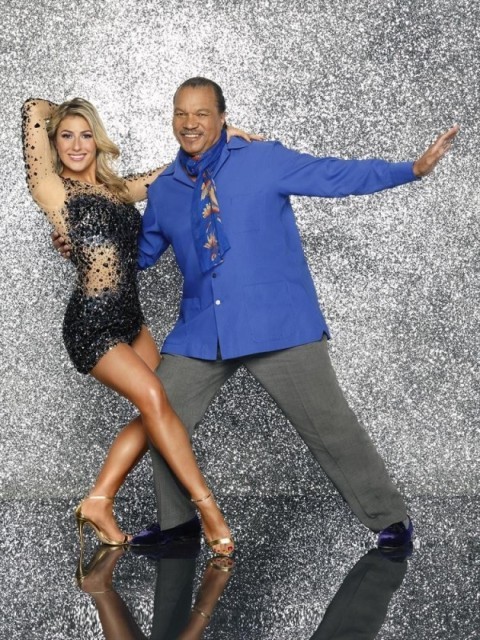 A new season of Dancing With The Stars is underway, which means new partnerships are formed. BFTV recently talked with Star Wars legend Billy Dee Williams and his professional partner Emma Slater about teaming up and how they plan to rebound from last Monday's rough debut.
"I watch the show all the time. I kind of got talked into it by everybody in my household, my friends," said Billy Dee, who is also reprising his role as Lando Calrissian in the upcoming animated series Star Wars: Rebels. "It's good, healthy activity. I wanted to see if I still had anything left, and here I am."
"I wasn't expecting [him] at all!" Emma told us. "I actually turned around and immediately recognized him as Lando from Star Wars; it's such an iconic role. And we started talking straight away. I was surprised that he was doing [the show], because he's 76 years old. [But] he's more mobile than you might think!"
"I've always been pretty active," agreed the actor.  Does he think he's going to be up for the rigor of a full season of Dancing? He told us only, "We're going to find out."
You can't just show up and expect to be ready for the ballroom. Billy Dee and Emma have been preparing for the season since before America even learned that they'd be paired together. "We find out a couple of days before the announcement who we're with. We have a meet. And that happens a couple of days before the rest of America finds out," Emma explained.
"We dance with them. We figure out what their capabilities are. We give them a couple of steps to try out," she continued. "Very quickly we have to analyze what they're good at, what they look good at, what they're comfortable doing. And from there we start mapping out routines and choreography tailored to them. They learn as we go. We don't teach them anything that they don't need to do."
Last season - her first season as a featured professional - Emma took comedian Bill Engvall to the Dancing finals. We asked her what she learned from her freshman outing that she's bringing to working with Billy Dee. "Pretty much everything," she said. "Just learning to deal with a celebrity and teaching them. You have to be with them for hours and hours a day, so you really get to know them. Last season with Bill made me so much more prepared for this season."
"I'm always thinking ahead," she added. "I'm thinking 'Oh, this song would be great for him' and I'll play it for him. Just things like that."
The pair are facing an uphill battle, as they came in at the bottom of the rankings in last week's premiere episode. What was it like for them to face such a disappointing finish right away, and how are they going to bounce back?
"It's hard for Billy to hear the criticism from the judges," Emma reflected. "I think the audience and the general viewing public were very supportive. But it's hard for him to stand there and hear the judge's negative comments. Because really, he's trying so hard, and he's such a legend. He didn't really think about that [criticism] so much. And then when it happened, he was very disheartened.
"The judges are fair; they only want you to take the constructive criticism and apply it to next week," she continued. "You really just have to take the criticism that they've given you, and in Billy's case, it was that they wanted more from him. They wanted to see bigger movements and clearer steps. So that's what we're going to work on."
"It's pretty overwhelming and it's pretty exciting," added Billy Dee, telling us how he'd describe his Dancing experience so far. "I look at everybody and I think they're awesome."
For Emma, how they place is only one part of what she's concerned with this season. "Getting to the finals is obviously something I would most like to do," she told us. "But then it gets to a point where you've done so many different dances with so many different people that you really just want to make memorable moments on the show. They're the things that are going to last forever. It's about creating special moments, I think, after awhile. The journey with your celebrity becomes more important almost than getting somewhere."
Dancing With The Stars continues tonight at 8 PM ET/PT on ABC.
(c)2014 Brittany Frederick. Appears at Starpulse with permission. All rights reserved. No reproduction permitted. Visit my official website and follow me on Twitter at @tvbrittanyf.