Billy Crystal And Bette Midler Team Up On The Big Screen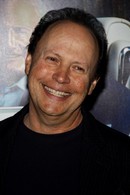 Veteran entertainers Billy Crystal and Bette Midler are set to team up as husband and wife in the new film Us & Them.

Midler, who recently dropped out of a biopic about disgraced music mogul Phil Spector due to a back injury, has signed on to play Crystal's estranged spouse in the new comedy, which will be directed by You Again's Andy Fickman.

In the film, Midler and the When Harry Met Sally star find themselves living together again and trying to parent their three grandchildren - one of whom will be break-out child star Bailee Madison of Brothers and Just Go With It fame.

Production is set to begin later this month in Atlanta, Georgia, according to Variety.com.

Midler is still battling back problems after being diagnosed with a herniated disc and placed on bed rest; just last week she wrote in a post on her Twitter.com account, "Still semi-immobile and stuck on the couch. Ironically, movies about paralyzed people on Lifetime all week!"