Billy Bob Thornton Heads An All-Star Cast In 'The Informers', In Theatres April 24

In such works as
Less Than Zero
and
American Psycho
Brett Easton Ellis brilliantly dissects contemporary American society, a culture in which too much is never enough. Now, adapting his own acclaimed novel for the screen, he returns to the Los Angeles of the early 1980's with a multi-strand narrative that deftly balances a vast array of characters who represent both the top of the heap (
a Hollywood dream merchant, a dissolute rock star, an aging newscaster
) and the bottom (
a voyeuristic doorman, an amoral ex-con
).
Connecting all his intertwining strands are the quintessential Ellis protagonists-a group of beautiful, blonde young men and women who sleep all day and party all night, doing drugs-and one another-with abandon, never realizing that they are dancing on the edge of a volcano. Filmed with uncommon glamor and grit by acclaimed Australian director Gregor Jordan (
Ned Kelly
,
Buffalo Soldiers
),
The Informers
is an alternately blistering and chilling portrait of hedonism run amuck.
Starring:
Billy Bob Thornton
,
Kim Basinger
,
Winona Ryder
,
Mickey Rourke
,
Jon Foster
,
Amber Heard
,
Rhys Ifans
,
Chris Isaak
,
Austin Nichols
,
Lou Taylor Pucci
, Mel Raido, and the late
Brad Renfro
.
The Informers is rated R for strong sexual content, nudity, drug use, pervasive language and some disturbing images.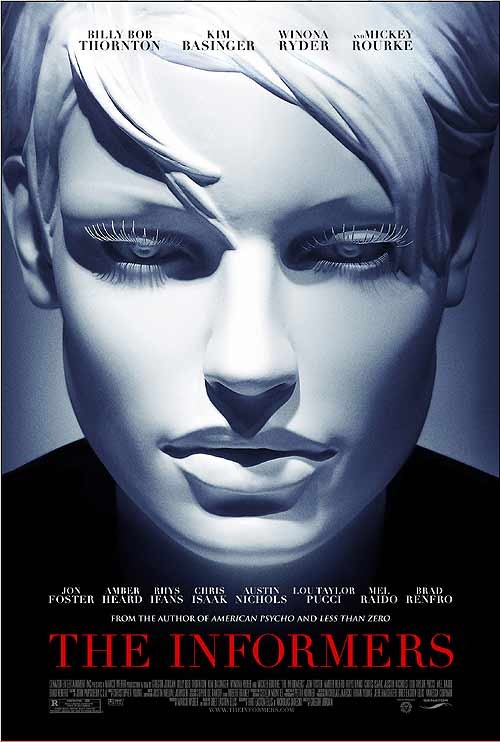 Official Site