Billie Joe Armstrong Joins 'Nurse Jackie'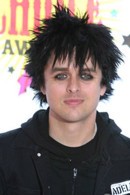 Green Day frontman Billie Joe Armstrong is taking his first steps into acting by accepting a role on hit TV show Nurse Jackie.

The singer has spent time on the Broadway stage starring in his band's musical American Idiot and now he is moving to the small screen by joining the fourth series of Edie Falco's show.

Nurse Jackie's executive producer Richie Jackson revealed the news by posting a picture of Armstrong and Falco on Twitter.com, writing, "Edie and our new cast member (Billie Joe Armstrong)! Wait til you see the season premiere!"