Bill Murray Celebrates 20th Anniversary Of 'The Late Show' Dressed As Liberace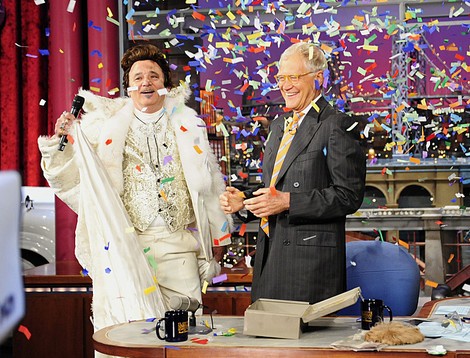 Bill Murray, who was the very first guest on "The Late Show With David Letterman" in 1993, celebrated the show's 20th anniversary by exiting a vintage car on stage and dressing up as Liberace.
It was the 26th appearance for the actor.
Murray made a grand entrance in a white vintage Rolls-Royce. He wore a flamboyant cape, carried a white toy poodle, and donned Liberace's signature hairstyle. He was escorted out of the vehicle by a young, blonde man wearing a gold and white chauffeur uniform.
"Wow.  Delightful...I didn't know you had a dog," Letterman commented.

"I had to get something that went with this outfit," Murray responded.
Murray unearthed a time capsule - using a pickaxe and jackhammer - as part of the festivities.
In related news, HBO's Liberace miniseries "Behind The Candelabra" has received Emmy nominations for "Outstanding Miniseries or Movie" and "Outstanding Lead Actor In A Miniseries or Movie" (Matt Damon and Michael Douglas)