Bilbo Baggins Comes Face-To-Face With A Dragon In First Trailer For 'The Hobbit: The Desolation Of Smaug'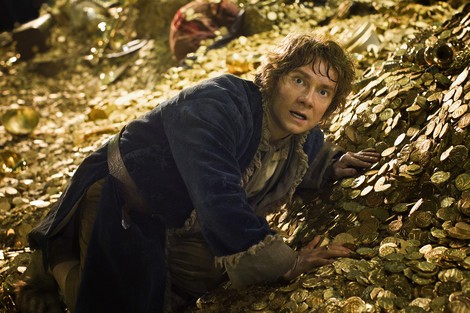 The first official trailer for the second film in Peter Jackson's Hobbit trilogy, The Hobbit: The Desolation Of Smaug, has finally arrived.

The trailer is voiced over by the Elvenking Thranduil (Lee Pace), who asks, "Where does your journey end? You seek that which would bestow upon you the right to rule. The quest to reclaim a homeland and slay a dragon."

From the look of the trailer, the next film promises plenty more action than the first installment, The Hobbit: An Unexpected Journey, beginning with the dwarves making their escape from the Wood Elves and culminating with the first good look at the dragon Smaug (Benedict Cumberbatch).

Elf warriors Tauriel (Evangeline Lilly) Legolas (Orlando Bloom) make their first appearances in the story, albeit during the latter's dwarf-hating days.

Luke Evans makes his first appearance as Bard the Bowman, while quick glimpses of returning characters Thorin (Richard Armitage), Gandalf (Ian McKellen) and Bilbo (Martin Freeman) are strewn throughout.

But while Smaug's appearance is more than the eye-opening final shot of Unexpected Journey, we still have yet to hear his voice. That will most likely have to wait until the film opens, on December 13.

Check out the trailer below and see new images from the film here.