Big Rich Texas' Melissa And Maddie Talk About The Second Season Of The Style Network Series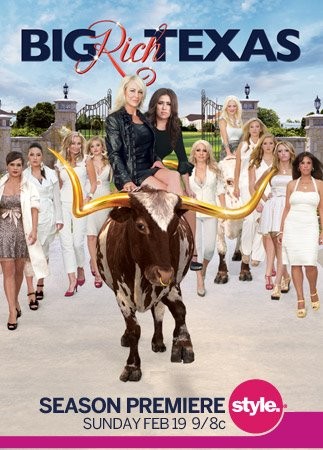 Style Network's hit show, Big Rich Texas is back with the second season and mother daughter duo, Melissa and Maddie spoke to us exclusively about the new season and what it's like to be a "Texas Elite."
Starpulse: Do you get recognized?
Melissa: I get recognized quite frequently now.  It's actually fun when fans want pictures with me.  It's all about the fans!
Maddie: Yes, it is very flattering. Lots of people come up and say hello, take pictures, and some just stare! It's weird too because I just feel like a normal person. 
Starpulse: Define what you think the "life of Texas Elite" means.
Melissa: For me, the "Life of the Texas Elite" is all about the richness of friends, connections and social circles.  You do not have to be "rich" to hob-nob with or donate your time to charitable organizations or the arts. It's there were you make wonderful life-long, giving friendships.
Maddie: To me it means being enriched by family, friends, and connections. In Texas it's all about who you know.
Starpulse: Can you describe the relationship you have with each other?
Melissa: The relationship I have with my daughter, Maddie, is a wonderful one.  I'm her friend but above all else, I will always be her mother first.  She's a joy which makes parenting her an easy job (so far).  She knows that in this big world I've always got her back and I will forever be her champion.  I also have a 21-yr old son Cameron (a musician) who has also been a joy and blessing to raise.  I definitely hit the "jackpot" in the kid lottery as a friend of mine would say.
Maddie: My mom and I are super close. I can go to her for anything and I know she will always be there for me. She can be really protective, but I know it's for the best.
Starpulse: What makes your relationship different than the other mothers and daughters on the show?
Melissa: As mother we all have our own unique parenting style that works best for our families.  I think I'm the more "motherly" strict mom of the show.
Maddie: Lots of the mother and daughter duos are best friends and I feel like my mom does a good job at not only being a friend to me, but being a mom first.
Starpulse: Melissa, you were a model before you had Maddie and want to pursue it again. How's that going for you? 
Melissa: Well as far as the offers are coming, I get them at least once a week but I've had no time to pursue any offers since filming Season 1 & 2.   It's just nice to know that I can do it again….and the beauty of it is that I'm wiser enough to pick and choose the opportunities.
Starpulse: What do you miss most about modeling?
Melissa: The travel is what I miss the most.  I am an adventurous travel bug!
Starpulse: You are both gorgeous- can you share with us any beauty or fashion tips?
Melissa: Tons of water and plenty of sleep…it's as simple as that.  As well as a chemical or laser peel 2x a year to remove any sun damage/age spots.  OH, and NEVER sleep in your make-up….so bad and aging for the skin. 
Maddie: I always wash my make-up off and moisturize before bed. DO NOT sleep with your make-up on. I've also had problems with my makeup fading off during the day, so I started using oil free primers and long lasting make-up spray by urban decay. I love it.
Starpulse: Maddie, is modeling something that you want to do?
Maddie:  I have thought about it, but I like the way my body is and I don't want to harm it based on someone else's judgments. Plus I like food way too much.
Starpulse: What's the best thing about being from Texas?
Melissa: I LOVE Texas and can't imagine living anywhere else.  We have a great economy and incredible arts/philanthropy here.  The Winspear Opera House is breathtaking!  Everything is really bigger and better in Texas….perfect for living out loud!
Maddie: There's something here for everyone, whether you're a country or city person you get the best of both worlds.
Starpulse: How do you feel that Big Rich Texas is different from The Real Housewives reality series?
Melissa: It's the dynamics of our mother-daughter relationships that make us different from The Real Housewives.
Maddie: I don't watch The Real Housewives, so I can't really say.
Starpulse: What reality shows do you watch?
Melissa: I love anything and all things Kardashian!   Love Dancing with a Stars and I also watch some of the Bachelor series.  I'm totally hooked on this season…LOVE Ben!  
Maddie: Mostly shows on MTV and E. I like The Real World, Keeping Up With The Kardashians, Teen Mom, and Jersey Shore. Typical teenager shows.
Starpulse: What's up next for you?
Melissa: I have a few exciting opportunities coming up…can't be too specific right now but there's a potential product endorsement and a small featured role in a movie.  Keeping my fingers crossed!  All I know is that life is really good right now with or without these opportunities.
Maddie: I go to an Arts Magnet High school so I want to continue my acting there and go on auditions outside of school as well.
Check out a sneak peek into the second season of Big Rich Texas: