'Big-Deal' Film Critic In Trouble For Ignoring 'The Girl With The Dragon Tattoo' Review Embargo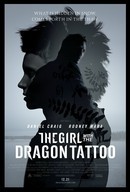 Moviemaker David Fincher has waded into an argument between the producers of his new film The Girl With the Dragon Tattoo and a New York critic who ignored an embargo to review the movie.

Sony bosses have sent a stern warning to all movie writers and bloggers demanding they don't follow The New Yorker critic David Denby's example and publish reviews of the much-anticipated thriller before a December 13 embargo.

In the missive, they state, "We have punished Denby, and he is a big-deal film critic. Don't think we won't do the same."

The warning note led to an email battle between the film's producer Scott Rudin and The New Yorker's editors, and Fincher has now offered his thoughts on the war of words, insisting, if it was up to him, he wouldn't let critics see him films until the day before release.

In an interview with The Miami Herald, the director says, "As silly as this may all look from the outside - privileged people bickering - I think it's important. Film critics are part of the business of getting movies made. You swim in the same water we swim in. And there is a business to letting people know your movie is coming out. It is not a charity business. It is a business-business.

"(But) if it were up to me, I wouldn't show movies to anybody before they were released. I wouldn't give clips to talk shows. I would do one trailer and three television spots and let the chips fall where they may. That's how far in the other direction I am.

"If I had my way, the New York Film Critics Circle would not have seen this movie and then we would not be in this situation. I would be opening this movie on Wednesday December 21st and I would have three screenings on Tuesday December 20th - and that would be it."