'Big Brother' Season 12, Episode 19: Twists, Eviction, And More Sabotage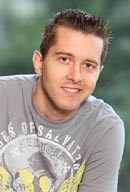 Thursday night's edition of Big Brother provided the twists that made the show famous in the first place.
The magical Diamond Power of Veto, which contestant Matt won when he selected to open Pandora's Box, couldn't have come at a more opportune time, as Brendon placed Matt on the block during Wednesday's episode in an effort to defend the honor of his evicted love Rachel. No one in the Big Brother compound knew that Matt held the Diamond Power of Veto, so many houseguests were torn between voting for Matt or for his fellow alliance member Lane.
The episode began with Matt feeling out his fellow Brigade members, in an attempt to see if his cohorts would have his back in the eviction vote. Enzo, in his best attempt at playing both sides, told both Matt and Lane that they had his vote. The episode then switched to Ragan, who is America's Saboteur. Ragan's antics have been pretty lackluster so far, so he tried to up the ante by secretly leaving Enzo a note on his bed stating, "I know your secret". Ragan succeeded in his mission, as the house started pointing fingers at Kathy as the Big Brother Saboteur. Ragan was thrilled by the fact that he was never even suspected, and walked away with a sweet twenty thousand dollar bonus for his mediocre efforts. Host Julie Chen turned the attention to Rachel, as she asked Britney and Ragan their thoughts on her 24 hour appearance. Britney, who looked beautiful as always, stated she was shocked by her visit, and Ragan, fresh off of his verbal beat down of Rachel, held his ground and said his integrity isn't for sale. After a visit to Lane and Britney's homes, it was time for the eviction. When Julie informed Matt it was time to plead his case to the houseguests, he revealed his hidden veto powers, which instantly shocked the house. Matt then had the opportunity to make a replacement nominee, and he chose the underperforming Sherriff Kathy.
When he revealed his power, Matt took a few jabs at Brendon, calling him a "dummy" and mocking his decision to put him up in the first place. Matt stated that it was time to make the house as competitive as it can be, and that's why he chose Kathy as his replacement. In an expected five to zero vote, Kathy became the sixth cast mate to leave the Big Brother house. The Big Brother warning to expect the unexpected played a huge role in Thursday's episode, and Kathy left knowing from first hand experience what that slogan truly means.
They then showed a clip of the cast mates playing a lame version of Simon Says, which was entertaining for about ten seconds during Britney's attempt at a handstand. The end of the episode featured the next Head of Household competition, which was based on their game of "Big Brother Says" from the previous day. Julie asked the contestants true or false questions relating to Big Brother's Simon Says game, and it turned out that Britney had the best memory of all, as she walked away as the new Head of Household. Britney holds all of the same likeable characteristics that season 11 winner Jordan held, and she is also an extremely strong competitor. As the season continues, there's no question that there are a few more unexpected twists in store for Big Brother fans across the nation.