'Big Brother' 2014 Episode 8 Recap: 'You Have Five Personalities And They All Suck"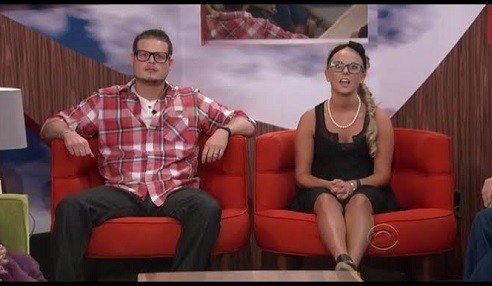 Last night's episode of Big Brother 2014 revealed the aftermath of head of household Devin Shepherd putting an alliance member for eviction. It wasn't an easy meeting for Devin. He faced off against hot-head Paola Shea, who felt betrayed by him for not saving her with the veto, and sporadic player Zach Rance, who felt betrayed by being nominated for eviction. In the end, none of the Big Brother 16 players came off smelling like roses. On Thursday night, one person got evicted from the Big Brother 2014 house, while two others enjoyed the head of household powers.
Zach Attack
Immediately after being removed from the block, former nominee Brittany Martinez exposed how Paola worked with Devin to throw the Battle of the Block competition. Paola then defends herself. She claims that her promises to Devin were false. He then accuses Paola of lying about not helping him in the competition, which angers her.  She starts attacking Devin personally.
Once Paola finishes, Zach starts his attack on Devin. Not only does he attack him, but he throws a few other players under the bus. These players include Caleb Reynolds, Paola, and his bromance/showmance partner Frankie Grande.
Repairs
Frankie feels personally hurt by Zach's betrayal. So Zach tries to apologize and reassure him that he never wanted to destroy his game.
Meanwhile, Devin works on replacing Zach with a new member for the Bomb Squad. He singles out Hayden Voss. Hayden agrees to join the alliance but really plans to destroy it.
Derrick Levasseur begins to work several major Big Brother 16 players to ensure that Zach stays in the game. He discusses it with his Team America alliance members, Frankie and Donny Thompson. Then he gets Caleb on board to save Zach.
Frankie decides he must cover all his angles by telling Devin that Zach isn't leaving. This forces Devin to breakdown and cut off all ties with the Bomb Squad.
Eviction and Head of Household Competition
All the houseguests, except Donny and Jocasta Odom, vote to evict Paola. So with a 10-2 vote, Paola becomes the second evictee of Big Brother 2014.
Underwater Polo: To win this head of household competition, players must hit a ball into a numbered slot. The numbers range from 1-29. If a player hits their ball into a slot with no numbers, they score a zero. After everyone hits, the two players who score the highest numbers becomes the new HoHs.
Frankie, Caleb, Donny, Jocasta, Derrick, and Nicole Franzel all score slots in the 20s. In the end, Derrick and Nicole become the new heads of household for the week.